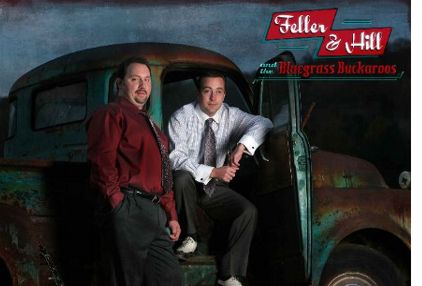 Nashville, TN -- Available now is the debut release from Feller and Hill, available February 4th, 2013, from Blue Circle Records--Featuring the debut single, "Big Blue Roses", written by Tom T and Dixie Hall. The duo has joined with the Graham Talent Group and is now accepting bookings for 2013 and beyond to promote their new CD, which will feature a wide variety of traditional and contemporary bluegrass music, as well as some classic country remakes and even a few southern gospel flavored tunes. If you like traditional bluegrass and classic country music, you'll love the brand new release Feller and Hill and the Bluegrass Buckaroos.
Formed in the tradition of such legendary duos Flatt and Scruggs and the Osborne Brothers, Tom Feller and Chris Hill are also heavily influenced by classic country greats Buck Owens and Ray Price. Feller's solid, expressive lead vocals blend seamlessly with Hill's razor-sharp tenor vocals, culminating in an exciting new duo, Feller and Hill.
Shortly after their first trip to the studio, Tom and Chris received word from bluegrass radio host Cindy Baucom that a cut from their demo CD would be featured on her nationally syndicated weekly radio program, "Knee Deep in Bluegrass." The CD has received praise and recognition from other industry greats, including Rhonda Vincent, Dudley Connell, Larry Stephenson, Larry Cordle, and many others.
In early September, 2012, Tom and Chris received word that a single from their demo release "Gonna Lay Down My Old Guitar" had reached number 9 on the Bluegrass Today weekly charts. This accomplishment looks to be a sign of more good things to come, considering the single was only released for digital download via Airplay Direct. Such momentum can be attributed to the hard work and dedication these two young veterans are bringing to the table - and soon, the stage!
"When Tom Feller and Chris Hill stepped up to the mic to sing, I was knocked out by their chemistry. They've got power and soul. I've worked with a few good singers."
- Engineer and veteran musician Steve Thomas
Tom Feller and Chris Hill were born across the Ohio River from each other—Tom in southern Indiana and Chris in northern Kentucky. Both have performed with bands from bluegrass-rich areas of Indiana, Kentucky, Ohio, and Virginia—Tom with Jerry Williamson & Redwing, The Larry Stephenson Band, Rhonda Vincent and the Rage, and with Nashville songwriter Kim Fox in the group 3 Fox Drive...—Chris with Gerald Evans and Paradise, The Wildwood Valley Boys, the James King Band, and The Karl Shiflett and Big Country Show. If you like traditional bluegrass and classic country music, you'll love Feller and Hill and the Bluegrass Buckaroos! Their latest album will be available in early February, 2013.
"Bluegrass-bound" to get together someday—it happened when Tom was filling in on bass and running sound with his cousin, Tony Holt's band, the Wildwood Valley Boys, during Chris Hill's tenure with them. Tom immediately noticed Chris's Don Rich-like tenor abilities, filing them in his best in the business category. Likewise, Chris admired Tom's skills at bass and sound engineering.
Tom learned to run sound from his mentor/Grandpa, Anthony Holt, and is considered today to be one of the top sound engineers in bluegrass music.
Chris learned his own sideline—clogging, from his mentor/Uncle, Glenn. Excelling in competitions, Chris was twice named National Champion. His career took him to Japan, the stage of the Grand Ole Opry, (Tom's Opry stage debut was with Rhonda Vincent and the Rage), and through the urging of George Jones, successful engagements on Norwegian Cruise Lines.
Both Tom and Chris became talented multi-instrumentalists. On banjo, Chris is equally comfortable playing straight-ahead Scruggs, Reno, or Stanley style, giving him an edge over many other banjo players on the bluegrass circuit. In the '90's and beyond, Tom's lead guitar rocked Cincinnati country radio in his and brother Joe's group Quartermile, when they were three-time winners of station B-105's Battle of the Bands.
The new CD is available for purchase at http://www.fellerandhill.com/ [1], Amazon, ITunes and for DJ downloads at Airplay Direct.