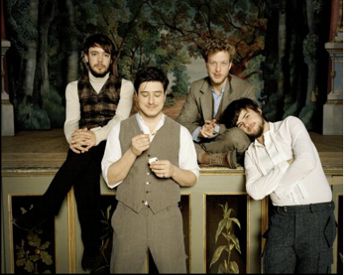 2013 marked another strong night for independents at the Grammy Awards, taking 36 of 79 non-producer categories, including Album of the Year and Best Album wins in 18 categories. Mumford & Sons' win for Album of the Year is the fifth consecutive trophy for indies in the category, following Robert Plant & Alison Krauss (Concord/Rounder), Taylor Swift (Big Machine), Arcade Fire (Merge), and Adele (who is signed to and marketed by Beggars/XL outside of the U.S.).
Glassnote Founder/President Daniel Glass said "I'm beyond thrilled and grateful to the band, the independent community that we're so proudly a part of, to indie retail and the fans that have been a part of this effort. What can I say about Mumford & Sons? They're a joy, a privilege to work with… I can't even call it work. And my Glassnote team, I can't thank them enough for all they've done in helping build this tremendous achievement. On behalf of all indies, I thank the Grammy voters for embracing great music and great artists… this is truly part of an independent movement and we're only just beginning."
Leading all independent labels, Concord Music Group artists took home eight Grammy Awards. Concord President Glen Barros couldn't be more pleased sending this message, "I'm so happy that I want to give everyone Kisses On The Bottom...along with all our other Grammy winning and nominated albums. I'm so grateful to work with such amazing artists and one of the best teams in the business."
Said Naxos USA CEO Jim Selby (six non-producer awards): "I would like to congratulate all of the artists, engineers, and producers who helped create these wonderful recordings. Their dedication, excellence and imagination allows all of us to enjoy this amazing music. All of these projects were created by vibrant independent classical labels, proving yet again how important the 'indie' labels and classical music are to each other."
This year marked the third consecutive year that independent labels and artists led the industry with 50% of all nominations, earning 210 of 393 non-producer nominations.
A2IM is a not-for-profit trade organization serving the Independent music community as a unified voice representing a sector that comprises over 30% of the music industry's market share in the United States (and almost 40% of SoundScan digital sales). The organization represents the Independents' interests in the marketplace, in the media, on Capitol Hill, and as part of the global music community.
A2IM is headquartered in New York City. The organization's board of directors is composed of the following: Daptone Records General Manager Cathy Bauer; Sub Pop VP of Business Affairs Eric Brown; Epitaph General Manager Dave Hansen; Yep Roc Records Co-Owner Tor Hansen; Alligator Records Founder/CEO Bruce Iglauer; The Beggars Group Founder/CEO Martin Mills; Glassnote Records General Manager Chris Scully; Naxos of America CEO Jim Selby; Tommy Boy CEO/Founder Tom Silverman; Dead Oceans/Jagjaguwar/Secretly Canadian Founder/Co-Owner Darius Van Arman; Razor & Tie COO Victor Zaraya.