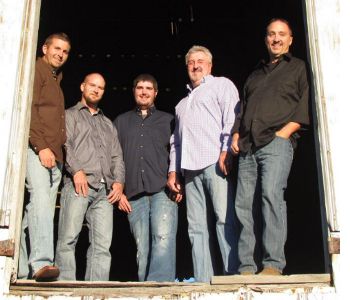 Hammertowne's recent exposure and success has launched them into the Deep River Management category, and out of Deep Creek Promotions. Deep Creek Promotions is a promotional and developing business, set in place by Deep River Management, to take lesser known bands and help them gain the much needed exposure and contacts that is needed to be successful.
Hammertowne has, in a few short months, gained national attention by winning the B.O.R.N. Award for 2012, from National Bluegrass, signed a record contract with Mountain Fever Records, and has released their first single to national radio stations across the country, "Cherokee Maiden".
These guys have all of the right ingredients to be very successful, and it is easy to understand the promotion within the structure of Deep River Management. Hammertowne will join other successful bands in Deep River such as Shannon Slaughter & County Clare, The Rigneys, Constant Change, Mountain Faith, Darren Beachley Band, & Travers Chandler & Avery County.
In Most Cases, much forethought, planning, and sometimes recruiting, goes into forming a musical unit. But not in this case. This group of musicians gathered in a studio as session players on a solo effort, and something special transpired.
After the stop button had been hit on the first take of the first song, several seconds of complete silence filled the place, until finally from the control room came... "WOW." The energy and musical compatability was so strong, that the fellows decided they wanted to... Take it outside! Thus... Hammertowne was born!
With these guys, its simply all about the music, and having more fun on stage than should be legal. They truly love playing the music that they play, and truly love the people they are playing it with.
For more information on Hammertowne, check out their website at http://www.Hammertowne.com/ [1]
The Wrecked Fretts will move into Deep Creek Promotions as the latest band on the roster. John Lockaby, co-owner of Deep River, said "The moment that I was introduced to this band, I knew they had something different than most bluegrass bands, but it was still bluegrass. I felt like our plate was full with the bands that we already have on board, but could not pass on the opportunity that this band brings to our family. Take a listen and I believe you will agree."
To learn more about these bands, go to http://www.deeprivermgmt.com/ [2]