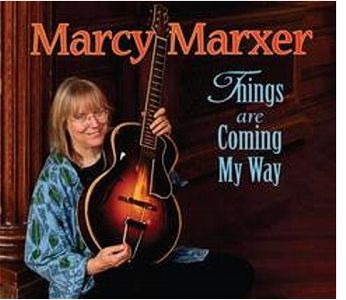 Austin, TX -- Marcy Marxer will release her first solo recording, Things Are Coming My Way, this March, celebrating in her hometown then across the nation touring with The Four Bitchin' Babes and as Cathy Fink & Marcy Marxer. From Django to the Blues, Gospel to Old Time Country, this recording overflows with Marcy Marxer's soul and sparkle. On tenor guitar, six-string acoustic, electric and resophonic guitars, ukulele, banjo, mandolin, penny whistle, percussion and vocals Marcy's talents don't all fit onto one recording, but you'll get the idea!
Marcy Marxer is a remarkable musician. She has a voice sweet as an angel and an uncanny ability to play a mind-boggling number of instruments. Her songwriting is clever and passionate. Whether on tour with the Four Bitchin Babes, in duo with longtime partner and fellow GRAMMY® recipient Cathy Fink, solo, or teaching, Marcy brings it all together with impeccable taste and a love for music and people.
"Marcy is a great swingin' force of nature on a whole bunch of stringed instruments. She has a big beautiful soul with a lovely sense of melody, which is well served by serious chops on guitar, uke, banjo, mandolin and probably a bunch more instruments that I can't even hold correctly."
– Bill Kirchen
Marcy is a multi-instrumentalist, studio musician, performer, songwriter and producer with 30 years of experience and a shelf of impressive awards. She has played acoustic music on Emmy Award winning National Geographic specials, platinum shipping Eva Cassidy CD's and on over 50 recordings and instructional materials created with her partner, Cathy Fink.
Marcy's guitar playing spans a variety of styles- swing rhythm and lead, bluegrass, old time, celtic fingerpicking, folk fingerpicking and some of the most tasteful backup you can hear. The C.F. Martin Co. has honored Marcy with her very own signature model guitar, the MC3H which she helped design. Flatpick Guitar Magazine called Marcy "one of the country's top Western style guitar players". She also plays mandolin, bouzouki, hammered dulcimer, Latin percussion, banjos, pennywhistle and flutes and of course, the beloved ukulele.
After a recording session with Mike Seeger, Marcy fell in love with his 1918 Gibson cello banjo. She searched the world for one, recorded some youtube clips and was soon gaining a following for her amazing cello banjo music. The Gold Tone Banjo Company began making the Marcy Marxer model Cello Banjo and the instrument has since shown up in folk, celtic and even punk bands!
The fun-loving Marcy is all about connecting music and people. She directs 3 ukulele orchestras: a seniors uke club, a Brownie uke club and the Ukulele Orchestra of Washington. Now, with her new release, Things Are Coming My Way, Marcy can connect her music with an even larger audience. Now her music is also coming our way.