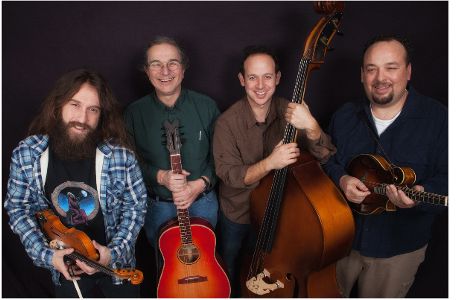 Oakland, CA --Longtime host of KPFA's Dead to the World, David Gans, is a busy guy: working on a new book, performing solo and with others – and as always at this time of year – combing through music collections (his own and others), preparing for the annual phenomenon known as the Grateful Dead Marathon. Now in its 27th year, this fundraiser for KPFA is a 16-hour extravaganza hailed by Deadheads and music lovers around the world, who can access the fun via the airwaves and streaming on the web. The Marathon is scheduled for Saturday, February 23, 9:00am - Sunday, February, 24 1:00am on KPFA-FM, 94.1.
Hosted by David Gans with help from Tim Lynch, the 2013 Marathon will feature exclusive music by the Mickey Hart Band – in advance of their upcoming tour – a live in-studio performance by Sycamore Slough String Band, interviews, hours of tasty audio featuring rare tapes from the Grateful Dead vault, and more.
"It's music that makes people dance, cry, think," Gans said in a 2011 interview with the San Francisco Chronicle's Carolyn Jones. "To play the Grateful Dead for 16 hours is not a tiring job. It's actually very energizing. I could go even longer."
Thank-you gifts include the beautiful Blue Rose t-shirt, designed by Papa Lindsey (see attached) HYPERLINK "http://papalindsey.com/ [1]"http://papalindsey.com/ [1], concert tickets, CDs, and more. What's even more fun than listening to this circus? Joining it! Sign up to volunteer in the phone room by calling 510.848.6767 x206. In addition to being surrounded by the on-air music, volunteers get to munch on tasty treats from the generous supporters of the Grateful Dead Marathon, including The Grand Bakery, Comal, Grateful Beans, and other generous food and beverage donors, talk to all kinds of interesting people on the phones and around the table. And best of all, it all helps KPFA!
"http://www.facebook.com/events/385627668200953/ [2]"http://www.facebook.com/events/385627668200953/ [2]
Support KPFA: Pledge your support to KPFA by calling HYPERLINK "tel:510-848-5732"510-848-5732 or HYPERLINK "tel:1-800-439-5732"1-800-439-5732 or donate online at http://www.kpfa.org&h=yAQEltEuE&s=1 [3]
Founded in 1949 by Lewis Hill, a pacifist, poet, and journalist, KPFA was the first community supported radio station in the USA. KPFA broadcasts on 94.1 FM and KPFB 89.3 FM, Berkeley, and KFCF 88.1 FM, Fresno, California. Our signal reaches one third of the state, utilizing 59,000 watts. Much of our programming is local, original and eclectic, with a well-produced mix of news and in-depth public affairs, ongoing drama, literature and performance series, interviews, and reviews. Our music ranges from folk to hip hop, Bach to Nusrat Fateh Ali Khan. We travel the region to broadcast live music, demonstrations, and cultural events. The majority of our staff is unpaid community volunteers donating their time and energy to bring you our programming. http://www.kpfa.org [4]
The Mickey Hart Band features Widespread Panic bassist Dave Schools, Grammy winning percussionist and longtime bandmate Sikiru Adepoju, Tony Award winning vocalist Crystal Monee Hall, singer and multi-instrumentalist Joe Bagale, drummer Ian "Inx" Herman, guitarist Gawain Matthews, and keyboardist / producer, Ben Yonas.JamBands.com gave the band's recent tour stop in NYC rave reviews stating that "Mickey Hart is nothing short of a musical genius and it shines through in everything he does. Whether he's working with George Lucas, NASA, or throwing together a unique group of musicians for a band, its apparent that Mickey isn't satisfied doing the same old thing…". HYPERLINK "http://mickeyhart.net/ [5]" http://mickeyhart.net/ [5]
With a shared affinity for the music of the Grateful Dead, and acoustic music chops galore, the four members of Sycamore Slough String Band first came together in an Oakland recording studio in January 2012 to see what they could conjure. This session resulted in an ensemble that evokes the purity of the acoustic form with a side of rhythm and psychedelia that honors the source while taking it in new directions. The band includes David Gans (guitar and vocals), David Thom (mandolin, guitar and vocals), Roger Sideman (upright bass), and Fiddle Dave Muhlethaler (fiddle and mandolin). HYPERLINK "http://www.s3b.us/ [6]" http://www.s3b.us/ [6]
Saturday, February 23, 9:00am - Sunday, February, 24 1:00am KPFA FM, 94.1
BROADCAST on KPFA-FM 94.1 in Berkeley and KFCF-FM 88.1 in Fresno
WEBCAST via HYPERLINK "http://kpfa.org/ [7]"kpfa.org, HYPERLINK "http://kfcf.org/ [8]"kfcf.org, HYPERLINK "http://gdradio.net/ [9]"gdradio.net, and HYPERLINK "http://nugs.net/ [10]"nugs.net