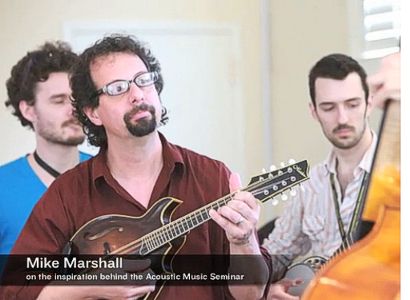 Savannah, GA -- The 2nd Annual Acoustic Music Seminar (AMS) participants have been selected from a large pool of applicants. Presented by the Savannah Music Festival (SMF), AMS is a groundbreaking mentorship program involving five days of hands-on instruction for some of the most promising and talented young musicians in acoustic music (ages 15 to 22). Led by acclaimed mandolin player Mike Marshall, this year's students will also study with world-class musicians and artists such as Julian Lage, Darol Anger, Bruce Molsky and Rushad Eggleston.
Of the 2013 AMS participants, Associate Director Mike Marshall says, "I was overwhelmed by the caliber of the applicants this year. The sixteen students we have chosen really do represent some of the finest young musicians I've seen, some of them right at the cusp of their careers taking off. I can't wait to see what they bring to the program, and I know Savannah is going to be blown away."
Sixteen AMS 2013 Participants (in alphabetical order):
Sterling Abernathy, 19, Nashville, TN (Mandolin)
Erik Alvar, 22, Tallahassee, FL (Double Bass)
David Benedict, 20, Clemson, SC (Mandolin)
Catherine (BB) Bowness, 22, Koitiata, New Zealand (Banjo)
Mairi Chaimbeul, 19, Skye, Scotland (Lever harp)
Xavier Foley, 18, Marietta, GA (Double Bass)
Tatiana Hargreaves, 17, Corvallis, OR (Violin)
Gary Hultman, 19, Johnson City, TN (Dobro)
Ethan Jodziewicz, 20, Olympia, WA (Double Bass)
John Mailander, 22, San Diego, CA (Violin)
Mila Phelps-Friedl, 15, Arlington, MA (Cello)
Chase Potter, 20, Columbus, OH (Violin)
Matthew Taylor, 16, Maryville, TN (Guitar/Mandolin)
Molly Tuttle, 20, Palo Alto, CA (Guitar/Banjo)
Leah Wollenberg, 20, Canyon, CA (Violin)
Matthew Witler, 21, La Crescenta, CA (Mandolin)
After a week of master classes also including Jerry Douglas, Daniel Hope and David Grisman, along with workshops and jam sessions, AMS culminates in a sensational showcase for festival audiences, entitled Stringband Spectacular. The production includes premieres of new work by AMS participants, performed by breakout ensembles including the clinicians. Tickets are $15-50 for the April 6th production at the Lucas Theatre for the Arts, and can be purchased online at www.savannahmusicfestival.org [1] or by phone at 912-525-5050.
AMS is sponsored by Bob & Jean Faircloth and in part by Willard & Jean Holland, with additional support from Dr. David Lake & Dr. Linda Wright. Additional support is also shared by Adventure Music.
The Savannah Music Festival (SMF) is dedicated to presenting a world-class celebration of the musical arts by creating timeless and adventurous productions that stimulate arts education, foster economic growth, and unite artists and audiences in Savannah. Now in its 24th year, SMF is Georgia's largest musical arts event and one of the most distinctive cross-genre music festivals in the world. The 2013 festival takes place from March 20th through April 6th in intimate venues throughout Savannah's historic district. For more information visit www.SavannahMusicFestival.org [2].