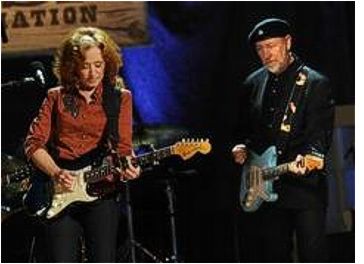 Early Bird Rates have been extended through Monday, February 4th so make your plans now (and save 50% off the walk up rate) for the annual Americana Music Festival and Conference in Nashville September 18-22, 2013. Full Festival & Conference registrations now cost only $250 for members and $350 for non-members (click here now to secure your discounted rate [1]). Rates go up Tuesday February 5th.
Last years event brought together was one of the best and featured legends and the next generation of stars (check out this facebook gallery [2]). Each year we are humbled by the artistry that supports our annual fundraiser. We have officially started preparations for this years autumn event and are excited to make Americanafest 2013 another memorable week!
Support the Mission: Are you a member? Join now to support our mission to advocate for the authentic voice of American Roots Music around the world. Your dollars help us to stay active all year round, to produce events like the Americana Music Festival & Conference in the fall, our SXSW showcase in March (more news on this to follow!), our Awards Nomination event in Los Angeles and we hope to expand to other cities this year. (Click here to become a member [3])
Only members may nominate and vote in our Annual elections for the Americana Honors & Awards and for our Board of Director Elections.
Fueled by musical legends Bonnie Raitt, Booker T. Jones and Richard Thompson, the next generation of stars including Alabama Shakes, Punch Brothers and John Fullbright, along with music industry heavyweights, the 2012 Americana Music Festival and Conference, presented by Nissan, saw over 15,000 fans, 300 performing artists and more than 1,100 music industry professionals, all of whom participated in the unparalleled five day celebration of American Roots inspired music.
"I have never been more optimistic about the future in my 20 years in the music industry," said Jed Hilly, Executive Director of the Americana Music Association, "The passion for this music and the community spirit we experienced last week was mind blowing."
Attendance for each aspect of the multi-day event continues to soar. The conference portion of this year's event, where industry professionals and artists gathered for a series of educational workshops and seminars saw an 8% gain over last year peaking at 1,196 attendees. Registration for the conference has now increased by a staggering 40% since 2010. Stimulated by the rising popularity of Americana Music, membership to the fledgling not-for-profit has increased by 18% in the last year and 37% since 2010 to now include 1,634 among their ranks.
The Americana Music Festival and Conference (Americanafest) featured approximately 175 unique panels, workshops and musical performances over the 5-day period. The event expanded its outreach into the Nashville community partnering with the Country Music Hall of Fame and Museum, the Downtown Presbyterian Church, the Hard Rock Cafe, Grimey's New & Preloved Music, Second Fiddle and Nashville Crossroads.