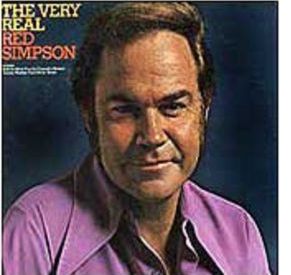 Nashville, TN -- Songwriter and Bakersfield Sound architect Red Simpson will take a seat at the Country Music Hall of Fame® and Museum on Saturday, February 23, as the latest subject of the quarterly programming series Poets and Prophets: Legendary Country Songwriters. The 1:30 p.m. in-depth interview and performance, held in the museum's Ford Theater, is included with museum admission and free to museum members. The program will be streamed live at CountryMusicHallOfFame.org.
The 90-minute program, hosted by Museum Editor Michael Gray, will include recordings, photos and film clips from the museum's Frist Library and Archive. Seating for the program is limited, and program passes are required for admittance. Immediately following, Simpson will sign limited edition, commemorative Hatch Show Print® posters. (Visit the museum's website for complete admission and signing details.)
Some call him the Bard of Bakersfield. Bob Dylan calls him the Forgotten Man of the Bakersfield Sound. However he is known, Red Simpson is an important player and ambassador for the West Coast country music scene. Buck Owens and Merle Haggard, the most well-known pillars of the Bakersfield Sound, recorded more than 40 of Simpson's original songs. Roy Clark, Alan Jackson, the Flying Burrito Brothers, Wanda Jackson, Johnny Paycheck, Lucinda Williams, Dwight Yoakam and many others have also recorded Simpson's songs. Simpson also enjoyed success as a recording artist, most famous for his truck-driving songs.
Born March 6, 1934, in Higley, Arizona, Joe "Red" Simpson was the youngest of 12 children in a musical family. When he was three years old, the family moved to California in hopes of finding work as cotton and fruit pickers. At age 13, Simpson bought his first guitar—for $6.00—with the money he earned picking cotton.
Simpson served on a naval hospital ship—the USS Repose—during the Korean War. In his downtime, he wrote songs and formed a country band called the Repose Ramblers. After his stint in the Navy, he returned to Bakersfield. Knowing that picking cotton was not the life for him, Simpson set his focus on a music career. He played the Bakersfield honky tonks, spent some time in Los Angeles recording studios and continued to write songs.
In the early 1960s, Simpson signed with Cliffie Stone's Central Songs Publishing Company, and began co-writing with Buck Owens early in the singer's career. Their collaboration yielded such songs as "Someone to Love," "The Kansas City Song," "Close Up the Honky Tonks," "Gonna Have Love" and "Sam's Place," Simpson's first chart topper.
Merle Haggard, himself one of country music's greatest songwriters, also recorded a number of Simpson's songs including "You Don't Have Very Far to Go" and "Bill Woods from Bakersfield."
By 1965, Simpson had established himself as a prolific songwriter. He had recorded a few singles for a few small labels but had not actively pursued a singing career. Capitol Records' Ken Nelson was looking to get in on the truck-driving trend that was sweeping country music. When Merle Haggard declined to record a trucking album, Nelson called Simpson and offered him a record deal. His album Roll, Truck, Roll included the title track (written by Tommy Collins), "Truck Driver's Blues" (Ted Daffan) and several Simpson-Owens trucking-themed co-writes. The album reached the Top 10 on the Billboard country album chart.
Throughout the late '60s and early '70s, Simpson continued to garner recognition for his truck-driving songs—including his most notable recordings, "The Highway Patrol," written with Dennis Payne and Ray Rush, and "I'm a Truck," written by Bob Stanton. Simpson left Capitol Records in 1974 and retired from touring in 1984.
In the mid-1990s, Junior Brown charted Simpson's "The Highway Patrol," and the pair recorded two duets: "Semi-Crazy" and "Nitro Express." As he has done for almost 20 years, Simpson continues to perform weekly at The Trout nightclub in Bakersfield.
This program is presented in support of the museum's exhibition The Bakersfield Sound: Buck Owens, Merle Haggard and California Country. Bakersfield Sound is supported by the Academy of Country Music, Ford Motor Company Fund and SunTrust. Additional support was provided by Buck Owens Production Company. Promotional support is being provided by media partners Great American Country Television Network and Cumulus Media.
The Poets and Prophets series honors songwriters who have made significant contributions to country music history. Previous Poets and Prophets honorees include Bill Anderson, Matraca Berg, Bobby Braddock, Wayne Carson, Jerry Chesnut, Hank Cochran, Sonny Curtis, Dean Dillon, Kye Fleming, Jerry Foster, Dallas Frazier, Red Lane, John D. Loudermilk, Bob McDill, Roger Murrah, Dan Penn, Curly Putman, Allen Reynolds, Mark D. Sanders, Don Schlitz, Whitey Shafer, Jeffrey Steele, Norro Wilson and Craig Wiseman./em