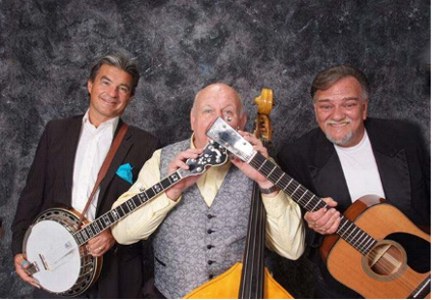 Hiltons, VA -- A longtime supporter of the Carter Fold and the traditions of Appalachia, Tim White settled in east Tennessee in 1974 and pursued his dream of being an artist, sign painter, and banjo picker. Tim's music has gained a strong following throughout the region, and he's fronted several bands over the past two decades - including Troublesome Hollow, the Beagles, and the VW Boys. Saturday, January 26th, 2013, at 7:30 p.m., the Carter Family Fold in Hiltons, Virginia, will present a concert of bluegrass music by the Tim White and the VW Boys. Admission to the concert is $8 for adults, $1 for children 6 to 11, under age 6 free.
While he is well-respected for his musical skills, Tim is probably best known as host of the PBS television concert series Song of the Mountains. This popular program features bluegrass, old time, Celtic, gospel, and Americana music and reaches over 21 million households and 52 million people annually across the nation. Tim's interest in recognizing, preserving, and perpetuating the historic music of the area led him to co-found the Appalachian Cultural Music Association. He regularly organizes and promotes concerts of bluegrass and old time music. WPWT Radio – 870 AM & 100.7 FM – hosts Tim's popular bluegrass show. Tim also does a nationally syndicated bluegrass show. A veteran of radio broadcasting, he started his career in 1989.
Tim is the banjo picker and baritone singer for the VW Boys. Dave Vaught is the group's guitar picker. With nine albums to his credit, he has worked with Ronnie Millsap, Gary Morris, Sylvia, Jerry Reed, and Charlie Pride. In addition to his guitar picking, Dave does harmony vocals for the group. Albert Blackburn is featured on upright bass and lead vocals. For 27 years he worked with the award-winning band Fescue - until they disbanded in 2009. Playing bluegrass for 31 years, Albert is quite well known and very well respected in bluegrass music circles. The VW Boys will bring along a fiddler and possibly some other guests for the concert.
Come join us at the Carter Family Fold for some of the finest bluegrass music the region has to offer. Tim & the VW Boys will be doing bluegrass, gospel, and lots of dance tunes – a little something for everyone. Load up your family and friends and get ready for an evening of unforgettable music and fun!
Carter Family Memorial Music Center, Incorporated, is a nonprofit, rural arts organization established to preserve traditional, acoustic, mountain music. For further information on the center, go to http://www.carterfamilyfold.org [1]. Shows from the Carter Family Fold can be accessed on the internet at http://www.carterfoldshow.com [2].
Carter Music Center is part of the Crooked Road: Virginia's Heritage Music Trail. You can visit the Crooked Road Music Trail site at http://thecrookedroad.org [3]. Partial funding for programs at the center is provided by the Virginia Commission for the Arts and the National Endowment for the Arts. For recorded information on shows coming up at the Fold, call 276-386-6054.