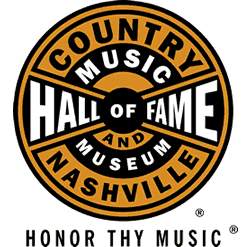 Nashville, TN -- The Country Music Hall of Fame® and Museum set an all-time attendance record in 2012, museum officials announced today. The 2012 attendance total of 564,777 people is the largest in the institution's 45-year history. The museum is host to much of our music's heritage including the Father of Bluegrass Music Bill Monroe's famed Loar Mandolin and instruments from the Carter Family and more.
"We would like to thank our local, national and international visitors for such strong support," said Museum Director Kyle Young. "Our attendance revenue last year increased more than 15% over 2011, which was also a record year. Through November 2012, our operating revenues increased by about 9% over prior year, and we expect that number to hold through December 2012. In these challenging economic times, we don't take this for granted.
"We attribute the strong year to several factors," Young continued. "We debuted a trio of popular exhibitions: The Bakersfield Sound: Buck Owens, Merle Haggard and California Country; Taylor Swift: Speak Now—Treasures from the World Tour and Patsy Cline: Crazy for Loving You. We also offered a dynamic schedule of live programs and events. Finally, Nashville continues to thrive as a tourism destination, and we are happy to contribute to and benefit from this. There's an incredible synergy happening in our city, and it's exciting to be a part of it."
The Country Music Hall of Fame® and Museum will be closed to the public from Tuesday, January 22, through Wednesday, February 6, 2013, to make needed improvements and accommodate expansion-related construction, museum officials announced today. The museum will reopen on Thursday, February 7, 2013.
"We've had more than four million visitors since we moved downtown in May 2001," said Museum Director Kyle Young. "We are usually closed on Tuesdays in January and February for routine maintenance, upgrades, etc. This winter, because of expansion-related construction, our efforts will be more substantial and will require a few more days. The end result will be an enhanced experience for our visitors."