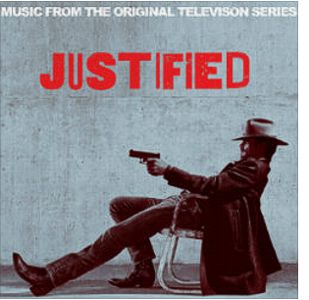 Nashville, TN --
Justified: Music From The Original Television Series
, releasing January 8, 2013 on Madison Gate Records, features a collection of 13 hand-selected and fan-favorite songs from the Sony Pictures Television/FX Productions original series,
Justified
. The album includes the main title theme "Long Hard Times To Come," an original recording of "Stand By Your Man" by Beverley Staunton, songs by Dave Alvin, Rural Rhythm Records' artist Cumberland River's ("Justified") and more. The digital album is available now for pre-order on iTunes. Season 4 of this hit TV show starring Timothy Olyphant premieres on the FX Network on January 8, 2013 at 10pm PT/ET.
With Cumberland River's "Justified" song certainly shining the national spotlight on Bluegrass music, Rural Rhythm Records has released "Justified" to radio as a focus track from the band's The Life We Live album. It is also available to radio stations at AirplayDirect.com
Cumberland River's "Justified" music video can be viewed via a link from the TV show's Official Production Blog which offers the latest news from the set of the show, together with interviews, recaps, behind-the-scenes stories, videos and more. The video is also available for viewing at Cumberland-River.com, YouTube, Yallwire, DailyMotion, Rural Rhythm Records, Hope River Entertainment, and many more sites. The video was filmed on location in Cumberland River's hometown of Harlan, Kentucky by Anthony Ladd of Kneelindesign who also served as Video Producer.
Justified The Complete Third Season
was released on Blu-ray™ and DVD December 31 from Sony Pictures Home Entertainment. Cumberland River's original song, "Antietam's Hill" was featured in the Season 3 premiere episode. The song was written by Cumberland River band member Dustin Middleton, who also provides lead vocals, along with James Dean, Jamie Stewart, and James Dean's brother, Mickey Dean. This Civil War themed tune appears on
The Life We Live
, on Rural Rhythm Records. The FX Network's official website for
Justified
includes a handy Episode Music Guide where fans can learn which songs were used in specific episodes. Included in this guide are more songs by Cumberland River including five featured in Season 2: Episode 204 -"For Blood or Money" featured an instrumental version of the band's original song, "Justified;" and Episode 209 - "Brother's Keeper" featured four songs: "Ridge Runner," "Wild Berries," "My Dad," and "Kentucky Mountain Home." Cumberland River includes the talents of James Dean (lead & harmony vocals, banjo); Brad Gulley (lead & harmony vocals, guitar); Joey Jones (bass); Dustin Middleton (lead & harmony vocals, mandolin); Jamie Stewart (Dobro); and Gary Robinson, Jr. (guitar). For more information including upcoming tour dates, please visit their website at Cumberland-River.com or contact Penni McDaniel at Hope River Entertainment for booking and media inquiries. For more information on
The Life We Live
and Rural Rhythm Records, please visit RuralRhythm.com