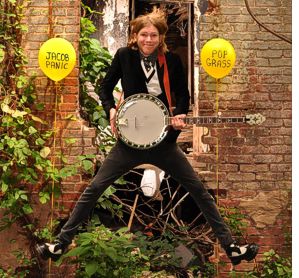 The Stelling Banjo Scholarship to Pete ("Dr. Banjo") Wernick's Advanced Banjo Camp has been awarded to 26 year-old multi-instrumentalist Jacob Panic, of Baltimore, Maryland. Already a talented banjo player, singer, and songwriter, Jacob aspires to a career in bluegrass music and has recorded an album of original songs on which he plays all the instruments. Reflecting on the award, Jacob says, "I'm humbled and grateful to Pete and Stelling. Pete Wernick is one of my banjo heroes."
Jacob has referred to his music as Pop-Grass and definitely creates his own sound. Accomplished on the guitar as well as the banjo, Jacob's interest in styles varies quite a bit as he stretches the edges of his art in pop, rock, bluegrass and other genres. As he finds his way, his music is his own with his own sound and his own expression.
The Advanced camp (January 21-26), for players with band experience, still has several spots left. Wernick's Basic Skills Camp (January 7-12) has 3 spots, and the Intermediate camp (January 14-19) is full with a waitlist.
Pete's winter camps, the "original" Banjo Camps, have been held annually in Colorado since 1984. Visit www.drbanjo.com/camps.php [1] for information and registration.