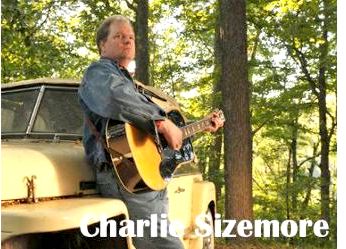 Prestonsburg, KY -- Acclaimed vocalist and guitarist, Charlie Sizemore has been recognized by Big Sandy Community and Technical College in Prestonsburg, Kentucky as a Distinguished Alumni of the Year for 2012. Sizemore attended the school (then Prestonsburg Community College) from 1986-88. While there he was instrumental in forming the Alpha Nu Zeta Chapter of Phi Theta Kappa, the honorary society of community and junior colleges and became its first president. He also was named to Who's Who Among Students in America's Junior Colleges.
Over the past ten years, Sizemore has raised over $70,000.00 to fund scholarships allowing deserving students in Eastern Kentucky to attend his alma mater.
After attending Prestonsburg Community College, Sizemore enrolled at the University of Kentucky, graduating with High Distinction in 1990. The same year he moved to Nashville and later enrolled in Nashville School of Law, where he earned his law degree with honors.
Sizemore holds dual careers –running a successful law practice in Kentucky and continuing his music career as one of the most respected vocalist in bluegrass music. His music career began at the age of 16 when he replaced Keith Whitley in Ralph Stanley's Clinch Mountain Boys.
Sizemore has recorded a series of critically acclaimed albums including "Heartache Looking for a Home" and "Good News" on Rounder Records along with a "The Story Is…The Songs of Tom T. Hall."
The Charlie Sizemore Band is now on tour and is preparing to begin work on a recording for release next year. For more information on Charlie Sizemore, please visit www.CharlieSizemoreBand.com [1]