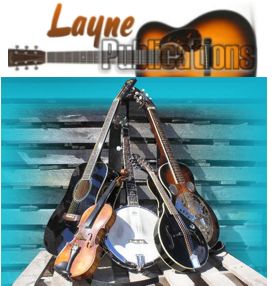 Layne Publications, the leader in banjo, mandolin and bluegrass guitar instruction, is pleased to announce the release of their latest bluegrass music lesson, Foggy Mountain Breakdown Banjo Tab. Layne Publications has hundreds of songs available with premium MP3 backing tracks recorded with an entire bluegrass band to make learning an instrument as easy as possible without one on one lessons.
This Tab allows users to learn to play along and practice with an entire Bluegrass Band. Each Tab was written by Jordan Layne Bourland and is designed to help the beginner and intermediate student get up to pace and playing with a full band as quickly as possible. Each song also comes with two MP3s as well as the Tab and an accompanying chord chart. These MP3s are recorded slightly slower than one might hear the song at a Bluegrass Festival. The reason for this is to help students learn, not leave them in the dust!
The first MP3 will have the entire Bluegrass Band Banjo, Mandolin, Guitar and Bass playing through the song exactly as one sees it on their TAB. The second MP3 will be the exact same recording but without their particular instrument. This gives students a chance to jump in there without the help of the recording and practice along exactly as they would with a live band.
With each and every song tabbed by hand and every instrument recorded by Jordan Layne Bourland visitors are sure to receive professional quality instruction from the comfort of their own home. Jordan has played with the best in the business and is now looking to pass this education on to others throughout the internet. Be sure to visit Layne Publications today and pick up exclusive free songs.
Layne Publications everything ranging from easy banjo songs with chords to free bluegrass tablature downloads for the mandolin, guitar songs, tunes, books and more. Each download for the guitar, mandolin or 5 string banjo comes with chords, two mp3 songs and tablature. One can even use their recommended software to speed up or slow down the song as one likes. From cool Banjo and Fiddle Tunes to Christmas to a simple Folk song one can find the sheet music they have wanting there. Get your popular Bluegrass Banjo, free Mandolin tabs and Bluegrass Guitar Tabs from Layne Publications today! Visit http://www.laynepublications.com/ [1] to review their catalog and even get some free tabs for you to evaluate.