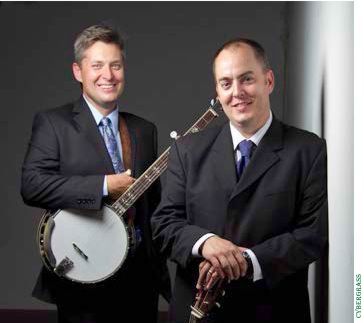 The Boston Bluegrass Union's 38th concert season kicks off on Saturday, January 12th with a performance by longtime BBU favorites and reigning International Bluegrass Music Association Entertainers of the Year the Gibson Brothers at the National Heritage Museum in Lexington, MA.
From their humble roots in rural upstate New York, brothers Eric (banjo, vocals) and Leigh (guitar, vocals) have risen to become among the most beloved and decorated duos in contemporary bluegrass. Over a career that spans over two decades, they have drawn inspiration from country music's rich brother-duet tradition while updating that legacy with inventive arrangements, peerless musicianship, evocative original songs, and insightfully chosen material from non-bluegrass sources. Also contributing to their reputation as festival favorites is their witty stage presence, sly sense of humor, and genuine warmth – which have enthralled audiences across the country.
Help My Brother, their tenth full-length album, released on Compass Records, was named 2011 Album of the Year by the IBMA. The band also took home the award for Vocal Group of the Year. The album is their most daring yet, confidently balancing traditional and modern elements. Joining Eric and Leigh on record and in concert are longtime bassist Mike Barber, fiddler Clayton Campbell, and Joe Walsh – the first graduate of Boston's Berklee College of Music to major in mandolin and a founding member of the popular Boston-area progressive bluegrass band Joy Kills Sorrow.
This year continues to see the band expand on their decades of hard work. At the 2012 IBMA Awards, the band turned it up another notch and took home the top prize in the bluegrass world, the coveted IBMA award for Entertainers of the Year along with Gospel Recorded Performance of the Year for their collaboration with Ricky Skaggs, "Singing as We Rise." The band is currently back in the studio working on their next recording for Compass Records. www.gibsonbrothers.com [1]. Contact Emily Amos at 615-320-7672 for interview requests.
Opening the show for the Gibson Brothers are special guests Mike Compton and Joe Newberry. Mike Compton is an internationally recognized mandolinist and a master of the classic, blues-inflected Bill Monroe mandolin style. He's a longtime member of the Nashville Bluegrass Band and the John Hartford String Band and was heard on the O Brother, Where Art Thou? soundtrack. He is joined by gifted multi-instrumentalist Joe Newbury for a unique duet performance.
Tickets are $27 (BBU Members $25) and can be purchased online at www.bbu.org [2] or by mailing a check (payable to the BBU) with self-addressed stamped envelope to Boston Bluegrass Union, PO Box 650061, West Newton, MA 02465. The National Heritage Museum is located at 33 Marrett Rd. (Route 2A), Lexington, MA 02421. If available, Student Rush tickets are $15 each with Student ID at the door beginning the night of the show at 6:30 PM. Doors open at 6:30pm and concert begins at 7:30pm. Directions can be found at www.monh.org [3] or call (781) 861-6559./emem