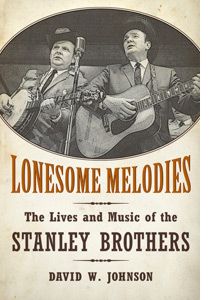 The University Press of Mississippi has released David W. Johnson's first biography of two integral bluegrass music innovators and touchstones of old-time country music authenticity - Carter and Ralph Stanley. The 300 page volume includes multiple photographs of the brothers who contributed much to bluegrass and mountain music.
Carter and Ralph Stanley--the Stanley Brothers--are comparable to Bill Monroe and Flatt & Scruggs as important members of the earliest generation of bluegrass musicians. In this first biography of the brothers, author David W. Johnson documents that Carter (1925-1966) and Ralph (b. 1927) were equally important contributors to the tradition of old-time country music. Together from 1946 to 1966, the Stanley Brothers began their careers performing in the schoolhouses of southwestern Virginia and expanded their popularity to the concert halls of Europe.
In order to re-create this post-World War II journey through the changing landscape of American music, the author interviewed Ralph Stanley, the family of Carter Stanley, former members of the Clinch Mountain Boys, and dozens of musicians and friends who knew the Stanley Brothers as musicians and men. The late Mike Seeger allowed Johnson to use his invaluable 1966 interviews with the brothers. Notable old-time country and bluegrass musicians such as George Shuffler, Lester Woodie, Larry Sparks, and the late Wade Mainer shared their recollections of Carter and Ralph.
Lonesome Melodies begins and ends in the mountains of southwestern Virginia. Carter and Ralph were born there and had an early publicity photograph taken at the Cumberland Gap. In December 1966, pallbearers walked up Smith Ridge to bring Carter to his final resting place. In the intervening years, the brothers performed thousands of in-person and radio shows, recorded hundreds of songs and tunes for half a dozen record labels, and tried to keep pace with changing times while remaining true to the spirit of old-time country music. As a result of their accomplishments, they have become a standard of musical authenticity.
David W. Johnson, Stratham, New Hampshire, has written about popular and traditional music for fifty years. His article on the Carter Family was included in Best Music Writing 2004. Lonesome Melodies - First Biography of the Stanley Brothers, 304 pages (approx.), 6 x 9 inches, 16 b&w photographs, index has a suggested price of $50 and is also available as an E-book. Both are available through Amazon.com [1].