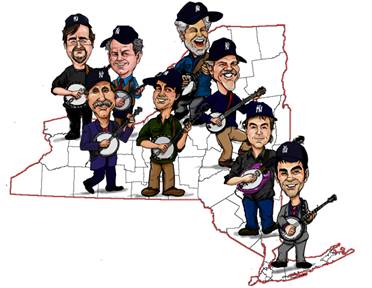 Many of the world's most influential five-string banjo players – all with ties to New York State - will re-unite to perform a "Banjo Summit" in a limited five-concert tour of the East Coast from January 16-20. 2013. The New York Banjo Summit featuring Bela Fleck, Tony Trischka, Bill Keith, Eric Weissberg, Richie Stearns and Noam Pikelny will bour the northeast this January.
The tour was originally scheduled to perform ten dates in October and November, however three of the dates were postponed until January due to Hurricane Sandy. Two additional concerts have now been added to the three make-up dates to bring the banjo virtuosos to Alexandria, VA, Tarrytown, NY, Northampton, MA, Princeton, NJ and New York, NY. See tour schedule below.
Generally considered the most accomplished master of the instrument, Béla Fleck will be joined by fellow pickers Tony Trischka, Bill Keith, Eric Weissberg, Noam Pikelny, and Richie Stearns, in concerts that will find the banjo being performed in both conventional and unexpected ways.
In performances ranging from solos and duets to full-tilt banjo blowouts with all the players and an acoustic band, the stage setting will range from the traditional backdrop of bluegrass and old-time country music to the more unconventional banjo genres including jazz, classical and rock music. The banjoists will be accompanied by an acoustic band featuring Russ Barenberg (guitar), Jesse Cobb (mandolin), Alex Hargreaves (fiddle) and Corey Di Mario (bass).
The January Tour dates are:
Wednesday, January 16, 7:30 PM: The Birchmere, Alexandria, PA
Thursday, January 17, 8 PM: Tarrytown Music Hall, Tarrytown, NY
Friday, January 18, 8 PM: Calvin Theatre, Northampton, MA
Saturday, January 19, 8 PM: McCarter Theatre, Princeton, NJ
Sunday, January 20, 7:30 PM: Schimmel Center for the Arts, New York, NY
For tour information: http://www.nybanjo.org/tour..html [1]