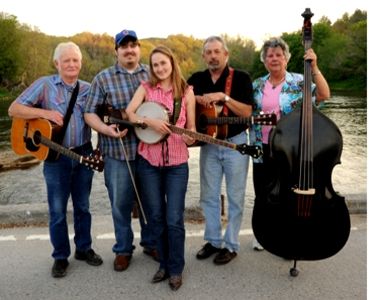 Kilby Spencer and the Crooked Road Ramblers play traditional old-time dance and bluegrass music from the mountains of Virginia and North Carolina. Members of the band are Kilby Spencer on fiddle, Amanda Spencer on banjo, John Perry on guitar, Donald Hill on guitar and vocals, and Karen Carr on bass and vocals. Don't miss Kilby Spencer and the Crooked Road Ramblers at the Carter Family Fold. It will be an evening of down-home entertainment. Bring along your friends and your dancing shoes! Saturday, December 1st, 2012, at 7:30 p.m., the Carter Family Fold in Hiltons, Virginia, will present a concert by Kilby Spencer and the Crooked Road Ramblers. Admission to the concert is $8 for adults, $1 for children 6 to 11, under age 6 free.
Kilby grew up in a musical family. His parents are Thornton and Emily Spencer of the Whitetop Mountain Band. Kilby's wife, Amanda, plays banjo in the old time clawhammer way – a style she learned from Kilby's mom Emily. Amanda is an instructor in the Junior Appalachian Musicians programs for Ashe and Watauga counties. Kilby and Amanda live in Crumpler, North Carolina. John Perry is well-known throughout our area for his guitar playing. With his individualistic slides and runs, he could even make a person with two left feet hit the dance floor.
Lots of people remember John for playing in the award-winning band the New River Ramblers. John lives in Independence, Virginia. Donald Hill has been playing music his entire life. His father, Leon Hill, was a musician and singer as well. Don has two sons who are also great pickers. Donald lives in Fries, Virginia. Karen Carr is a dream-come-true for any old time or bluegrass band. She loves to play music and sing. She and Don also handle comedy for the group. Karen is deeply rooted in the musical heritage of the region with relatives who played including Fred Cockerham and Wilson Ramey. Karen lives in Galax, Virginia.
Carter Family Memorial Music Center, Incorporated, is a nonprofit, rural arts organization established to preserve traditional, acoustic, mountain music. For further information on the center, go to http://www.carterfamilyfold.org [1]. Shows from the Carter Family Fold can be accessed on the internet at http://www.carterfoldshow.com [2].
Carter Music Center is part of the Crooked Road: Virginia's Heritage Music Trail. You can visit the Crooked Road Music Trail site at http://thecrookedroad.org [3]. Partial funding for programs at the center is provided by the Virginia Commission for the Arts and the National Endowment for the Arts. For more information on Saturday's concert, contact the Mountain Music Museum at 276-645-0035. For recorded information on shows coming up at the Fold, call 276-386-6054.