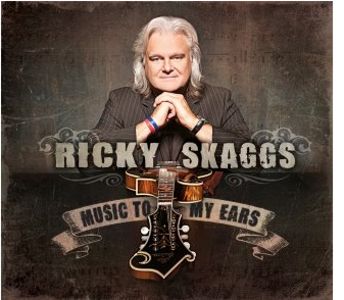 Nashville, TN -- This Thanksgiving weekend, country and bluegrass music icon Ricky Skaggs will appear on the Fox News Channel's America's News HQ for a special visit with host Uma Pemmaraju. In support of his latest CD, Music To My Ears, and in the spirit of Thanksgiving, Skaggs will perform "Nothing Beats A Family," a tune included on the album. The segment will air this Saturday, November 24 at 12:55 PM EST.
Fourteen-time Grammy® Award winner Ricky Skaggs will please Country and Bluegrass fans alike with the release of his all-new album, Music To My Ears (Skaggs Family Records). The new project is produced by Skaggs and co-produced by Grammy® Award-winning songwriter Gordon Kennedy, famed for penning multiple smash hit songs including Eric Clapton's "Change The World."
"This album is 'Music To My Ears' and I hope to yours, as well," says Skaggs. "We've flavored it with all of my favorite sounds and I'm excited to have teamed up with some of the best musicians in the business to create this new record."
Music To My Ears includes all-new songs as well as fresh takes on older Bluegrass standards. The track, "Soldier's Son," brings together the musical talents of Ricky Skaggs and Barry Gibb, known for his longtime fame with the Bee Gees. Gibb, who made his Grand Ole Opry debut alongside Skaggs earlier this year, co-wrote "Soldier's Son" to be sung by the pair for the new album.
The album also includes a new Christian Bluegrass song, "Music To My Ears," "Tennessee Stud," a special tribute to the late Doc Watson, "New Jerusalem," a new instrumental written by Skaggs and "You Can't Hurt Ham," a recording with lyrics inspired by the infamous saying of the Father of Bluegrass Music, Bill Monroe, co-written by Kennedy and Skaggs.