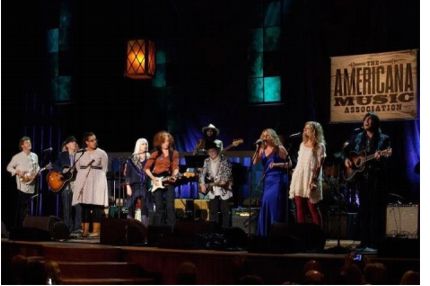 Nashville, TN -- The Americana Music Association is excited to announce that registrations for the 2013 Festival & Conference, slated for September 18-22, 2013, are on sale now [1] at the Super Early Bird rates of $250 for members and $350 for non members.
This year the Association will also offer special VIP Packages [1] that will provide lucky participants priority access to all sanctioned Festival and Conference events PLUS bonus offerings to include special seating and a once in a lifetime, insiders view behind the scenes at our Honors & Awards show at the historic Ryman Auditorium.
Act now and guarantee the best seating for the 2013 Americana Honors & Awards show and priority admission to the four-day Americana Music Festival and Conference in Nashville, TN.
The Early Bird discount announcement coincides with the nationally televised broadcast of ACL Presents: Americana Music Festival 2012 which began airing Saturday, November 10th on PBS and will continue through this next week (check your local listings). The critically acclaimed program features performances by some of the best and brightest new faces of Americana, as well as legendary icons who helped define the genre: Bonnie Raitt with John Hiatt, Booker T. Jones, Tom T. Hall with Peter Cooper and Lee Ann Womack, Alabama Shakes, The Mavericks, Richard Thompson, Buddy Miller and Jim Lauderdale, Carolina Chocolate Drops, Kasey Chambers and Shane Nicholson, Hayes Carll with Cary Ann Hearst, Guy Clark and Jason Isbell and the 400 Unit, and an all-star finale tribute to Levon Helm.
With praise ranging from Southern Living Magazine declaring Americanafest to be "Nashville's Best Music Festival" to Paste Magazine describing the Americana Honors & Awards program as the "best awards show in the world," the annual roots music pilgrimage has become one of the premier musical events on the calendar.
Each year, the Americana Music Festival & Conference features over 100 artist performing in local venues, where legends and the next generation of rising stars come together for four days of music and education. In addition to the artists mentioned above, the Wallflowers, Brandi Carlile, Rodney Crowell, Punch Brothers, and more have graced the Americana Festival stages, making it both the critics' darling and place where artists want to be.
The event brings together thousands of artists, fans and industry professionals from all over the world to Nashville, TN. Over 40 panels and daytime events feature some of the industries brightest minds attending one of the nations most comprehensive and diverse music conferences. With planning already underway, the 2013 Americana Music Festival & Conference promises to once again be the must-attend event for anyone with a passion for music.
Registration includes access to all daytime conference activities, all evening festival showcases, and one ticket to the Americana Honors & Awards show at the historic Ryman Auditorium. To purchase your registration now click here. For more information and updates from the Americana Music Association visit www.americanamusic.org [2], facebook, and @americanafest on twitter.