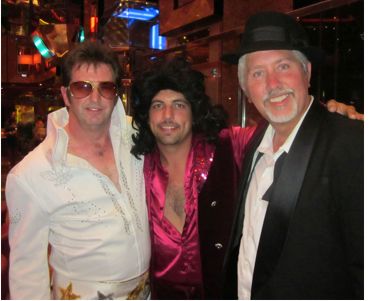 If these "legends of music" look strangely familiar, there is good reason. Three bluegrass artists, on board the Carnival Dream cruise ship for the recent First Quality Bluegrass Cruise, were featured as part of the Carnival Legends Show. This Las Vegas style show paid tribute to several musical legends with Tim Graves of the Farm Hands playing the part of Elvis Presley, Blake Johnson of the James King Band portraying James Brown, and The Farm Hands' Daryl Mosley as Frank Sinatra.
Growing up in the rural South, there are a few things you can count on. Long hot summers, cold sweet tea, church on Sunday, and great music. But there is no music that captures the joy and satisfaction of a Sunday in the south like Bluegrass Music. Warm, ringing acoustic instruments and voices blending together creating a musical energy like no other. But regardless of where you are, you can be musically transported to a time of 'all-day singings and dinner on the ground' when you hear the fabulous Farm Hands Bluegrass Quartet.
The Farm Hands bring together four talented singers and musicians into one of the most exciting groups in bluegrass and gospel music. The group features two long time veterans of Nashville's Grand Ole Opry, Daryl Mosley and Tim Graves.
Singing and playing bass is multi-award winning singer/songwriter Daryl Mosley. For over a decade, Daryl was the leader of the award winning bluegrass gospel group, New Tradition and later performed for 10 years as part of the Grand Ole Opry in Nashville. He has enjoyed much success as a recording artist, as well as writing great songs for others. Daryl has written songs featured on American Idol, The View and True Hollywood Story, as well as several #1 songs and awards to his credit, including former Song of the Year in southern gospel, "(Ask the Blind Man) He Saw It All."
Singing and playing the dobro is Grammy® award winner Tim Graves. Tim has over 30 years of professional music under his belt, including 20 years as part of world famous Grand Ole Opry. Tim has toured extensively across the U.S. with his own group, and is the reigning Dobro Player of the Year in Bluegrass Music, a distinction he has held 7 times and the last 4 years in a row.
On the acoustic guitar is Kevin Williamson. Kevin was a founding member of the bluegrass bands Redwing and Shadow Ridge. He has played most of the major bluegrass venues in America, has written several bluegrass chart singles as well as a song on a Grammy® nominated album. Performing under the name Kevin Kidd, Williamson is one of the most sought after children's entertainers in the Southeast. Kevin is also a sound engineer, record producer, worship leader, music instructor and has a family band with his wife and their 3 children.
On banjo is Bennie Boling. Bennie has been playing music with Tim for over 30 years. Bennie is a multi-instrumentalist, being right at home on bass, guitar, and several other instruments. He is also a gifted songwriter, having songs recorded by the Oak Ridge Boys, Gene Watson, Grand Ole Opry star Jeannie Seely and others.
Together, Tim, Daryl, Kevin, and Bennie create a sound that keeps the Farm Hands Quartet both rooted in tradition, and fresh and exciting. They feature new songs as well traditional gospel classics that will keep your toes tapping, your face smiling, and your heart closer to home. With a salute to the past and a face toward the future-the Farm Hands Bluegrass Quartet. and