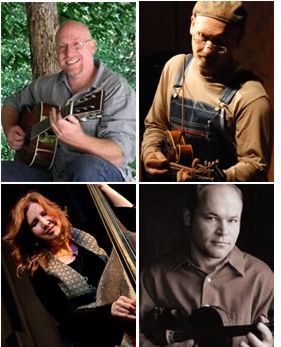 Nashville, TN -- It was just another night in Nashville: four friends—revered acoustic musicians—got together in a living room. The music bounced, danced, gathered strength, and lifted them in a way that only happens with the right players. So, they formed a band and named it Helen Highwater—the tough, whimsical goddess of string band music. It's David Grier on guitar, Missy Raines on bass, Mike Compton on mandolin, Shad Cobb on fiddle, and power vocals from all four. All are bluegrass music veterans.
These are musicians who have performed for decades. Their music is rooted but not frozen, recognizable but not predictable, comfy but not smug. It's also a steel-railed groove of steam-powered drive—Gid Tanner and Bill Monroe stoking the coal car and one band barreling ahead, eyes around the curve.
David Grier was named an Artist of the Decade in 2000 by Guitar Player magazine, has received the International Bluegrass Music Association (IBMA) Guitar Player of the Year award 3 times, and has played on 4 Grammy award-winning albums.
Missy Raines is a 7-time IBMA Bass Player of the Year and a former member of the Claire Lynch and Eddie & Martha Adcock bands. She played as a duo with Jim Hurst and now fronts her own ensemble, The New Hip.
Mike Compton is known as the Monroe-style mandolin player and has played with John Hartford and the Nashville Bluegrass Band. Mike received Grammy awards for his work on O Brother Where Art Thou and played on projects for Dr. Ralph Stanley and Elvis Costello.
Shad Cobb is a powerful and nuanced fiddler who draws from deep traditions and has played for the Osborne Brothers, Willie Nelson, Steve Earle, Marty Raybon, Mike Snyder, and the John Cowan Band.
Helen Highwater will debut with a special appearance at The Fiddle House in East Nashville on Sunday December 2.