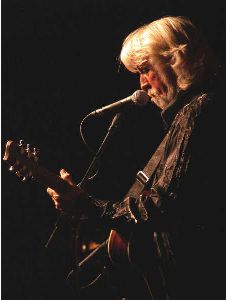 Saturday evening, John McEuen allowed the audience to participate in a new multi-media experiment, An Evening with John McEuen: A Career Retrospective that spans the career of this versatile songwriter, multi-instrumentalist and actor. The solo project, which included artist Matt Cartsonis, was supplemented by a large screen visual experience of historic stills and videos covering everything from the Dirt Band's beginnings to the Circle Album and more.
John's music is a history of itself comprised of almost a half century of evolution that encompasses the globe from being a founding member of the Nitty Gritty Dirt Band to participating and producing music of almost all artists of his time. The solo performance has John performing banjo, guitar, mandolin and keyboard as he transports the audience through 46 years of music in a close and intimate session.
An Evening with John McEuen: A Career Retrospective was as entertaining as it was a great rememberance of the music many of us grew up with. Songs of Maybelle Carter, Bob Dylan, Earl Scruggs and more spanned folk, Appalachian, bluegrass and more as John lead the audience through the multi-media experience of his latest project. The visual impact of the large screen images supplemented by McEuen describing how events unfolded is a new dimension of McEuen's innovative ways to approach the music in new and exciting domains. The audience seemed to agree as their applause supported every step through the journey.
The program spent time on the Dirt Band being the first American band to tour the Soviet Union in the mid '70s, the band's participation in the motion picture Paint Your Wagon and the oustanding Will the Circle Be Unbroken collaboration. More importantly, the multi-media experience offers a true and personal behind the scenes reflection on how these came to be and the long term impact the music has had through his entertaining career.
Tonight, John is in Denver and if you are anywhere in the area, try and catch this show. It is more than entertaining! It is John at his finest doing what he loves and you can be a part of it too. One word covers this show: Outstanding. The audience seemed to agree.