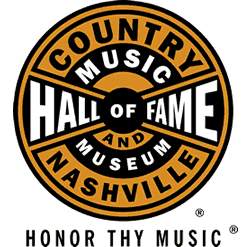 Nashville, TN -- The Country Music Hall of Fame® and Museum's quarterly program series Nashville Cats: A Celebration of Music City Musicians returns on Saturday, November 17, with a salute to guitarist Billy Sanford. The 1:30 p.m. in-depth interview, held in the museum's Ford Theater, is included with museum admission and free to museum members. The program will be streamed live at CouintryMusicHallOfFame.org
Hosted by Bill Lloyd, the program will include an in-depth, one-on-one interview illustrated with vintage recordings, photos and film clips from the museum's Frist Library and Archive. Seating for the program is limited, and program passes are required for admittance. Immediately following, Sanford will sign limited edition, commemorative Hatch Show Print® posters in the Museum Store. (Visit the museum's website for complete admission and signing details.)
Billy Sanford's guitar riffs have been a mainstay of the Nashville session scene for over three decades. In addition to touring with Roy Orbison and Don Williams, Sanford helped create classic country and pop records in Nashville. He played guitar on the Oak Ridge Boys' "Elvira," Roy Orbison's "Oh, Pretty Woman," Charlie Rich's "Behind Closed Doors," Kenny Rogers' "The Gambler" and Keith Whitley's "I'm No Stranger to the Rain." Sanford played on sessions with Vern Gosdin, George Jones, Willie Nelson, Elvis Presley, Tammy Wynette, Trisha Yearwood and many more.
William R. Sanford Jr. was born in Natchitoches, Louisiana, on January 9, 1940. Coming from a musical family—his father bought him his first guitar, and his sisters were musical—Sanford taught himself to play the guitar and started performing in Texas nightclubs. In his late teens, he took a job as a staff musician for the Louisiana Hayride in Shreveport. He later did a stint as Bob Luman's bassist.
It was Luman who, in 1962, invited Sanford to Nashville to record with him. Over the next two years, Sanford would commute from Shreveport to participate in Nashville recording sessions before he made the permanent move to Music City.
Within hours after Sanford arrived in Nashville, in February 1964, Roy Orbison invited him to join his touring band, the Candy Men. With Orbison, he would record pop hits such as "Oh, Pretty Woman," "Goodnight" and "You're My Girl." He also performed on The Ed Sullivan Show, in 1965, with Orbison and the Candy Men.
During the height of his recording session career, Sanford backed a host of country superstars including Waylon Jennings, the Oak Ridge Boys, Charlie Rich, Ray Stevens, Tanya Tucker and others. His studio credits included hits such as "Lady Lay Down" by John Conlee; "Golden Ring" by George Jones and Tammy Wynette; "Take This Job and Shove It" by Johnny Paycheck; "Coward of the County" by Kenny Rogers; and many others.
After more than 30 years of recording sessions and touring, he entertained the idea of retirement in the late 1980s, but Don Williams convinced Sanford to go out on the road with his band. Seeing retirement was not in the cards, Sanford continued to record a few sessions—including those with Keith Whitley that yielded the hits "I'm No Stranger to the Rain" and "When You Say Nothing at All."
Sanford lives in Nashville. In addition to an occasional recording session, he continues to tour with Williams.