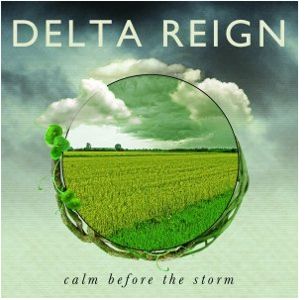 Willis, VA -- Mountain Fever Records is proud to announce the release of Calm Before The Storm, the brand new CD by Delta Reign. The project has been shipped and is available to radio programmers and consumers everywhere.
Formed in the fall of 2004 by husband and wife team Pat and Benita Murphy, Alabama-based Delta Reign considers themselves just a bit different from the norm. "Delta Reign brings together the musical influences of each of our members; bluegrass, western swing, blues and jazz," states Benita. "We like to call it Delta Bluegrass." And with her solid rhythm and moving swing chords on guitar, Benita certainly adds the swing and jazz element to the band while also taking on most of the lead singing with a very earthy, deep-rooted vocal style.
Pat Murphy brings the bluegrass influence with his driving banjo and his creative ideas with the arrangements help give the band its unique sound. Singing together over the years with Benita has afforded the life-partners a very tight vocal blend. Rounding out Delta Reign are Harrison, Arkansas native George Mason on fiddle and Joshua Faul from Gulfport, Mississippi on bass. Mason grew up on bluegrass but spent the better part of his career working with major touring acts and also served as the musical director for The Osmonds for six years. While a newcomer to bluegrass music, Faul brings solid bass knowledge to the band as well as the Mississippi blues element.
Calm Before The Storm is an excellent example of what this band offers during their performances. With the fusion of bluegrass, delta blues, swing, jazz and rock, the band is certainly diverse with its music. With this CD, Delta Reign covers the gamut of great music with a Hank Williams classic ("There'll Be No Teardrops Tonight"), a Flatt and Scruggs standard ("A Hundred Years From Now") and two great songs penned by Jimmie Davis ("Columbus Stockade Blues" and "You Won't Be Satisfied That Way"). Lead singer Benita Murphy also contributes two original songs that seem to fit seamlessly within the project ("Last Southbound Train" and "Red Dirt Dreams"). John Lawless of Bluegrass Today offered liner notes for the project and summed up Delta Reign perfectly:
"So we come to the question: what happens when you combine swing-style, sock rhythm guitar with 3 finger banjo in a four piece bluegrass ensemble? This is what Delta Reign is here to answer, and they do it with a breadth of experience and ability in a wide range of sets and sub-sets...To my ear, the mix of Earl Scruggs banjo licks with Texas-style guitar is irresistible. It invariably makes me smile."
Calm Before The Storm has been shipped to radio programmers worldwide and is also available to DJs via digital download through AirplayDirect. Consumers will find the CD available wherever great music is sold. For more information on Delta Reign, please visit www.DeltaReign.com [1] or www.MountainFever.com [2]
Track Listing:
"There'll Be No Teardrops Tonight"
"Don't You Know"
"Columbus Stockade Blues"
"Calm Before The Storm"
"Last Southbound Train"
"Red Dirt Dreams"
"Wayfarin'"
"A Hundred Years From Now"
"Good Woman's Love"
"Don't You Hear Jerusalem Moan"
"Can't Find My Way Home"
"You Won' Be Satisfied That Way"
border=0 height=200 width=205 /