Nashville, TN (October 3, 2012) — Rural Rhythm Records is proud to announce the bluegrass song, "Life Goes On" by the Musicians Against Childhood Cancer® (MACC) was awarded the 2012 International Bluegrass Music Association's (IBMA) Recorded Event of the Year Award. It was presented during the IBMA Awards Show held last week at the Ryman Auditorium in Nashville, Tennessee. "I am honored to accept the IBMA Recorded Event of the Year award on behalf of the artists, producers and songwriters of the song 'Life Goes On' and for everyone involved in the entire album," said Darrel Adkins this week.
"Life Goes On" was written by Dale Pyatt and Steve Thomas and includes the incredible talents of: Carl Jackson, Ronnie Bowman, Larry Cordle, Jerry Salley, Rickey Wasson, Randy Kohrs, D.A. Adkins, Garnet Bowman, Lynn Butler, Ashley Kohrs, Gary Payne, Dale Pyatt, Clay Hess, Alan Bibey, Jay Weaver, Ron Stewart and Jim VanCleve – many who joined Adkins on stage to accept the honor.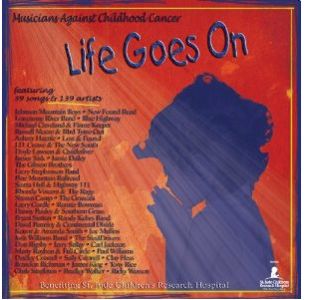 The album, Life Goes On was recorded live during the annual MACC festivals from 2006 – 2011 with the exception of the award-winning song "Life Goes On" that was recorded at Randy Kohrs' Slack Key Studio in Nashville, TN. Rural Rhythm Records recently released a video of the song that can be viewed on the Musicians Against Childhood Cancer website at www.BluegrassClassic.com [1]
Life Goes On picked up four other IBMA nominations this year including: "Beyond the Sunset" with Doyle Lawson, Russell Moore, Jamie Dailey & Josh Swift receiving two Nominations – Gospel Recorded Performance of the Year and Recorded Event of the Year. "Old Violin" by Larry Cordle & Michael Cleveland also received a nomination for Recorded Event of the Year resulting in three nominations in the same category. "Manzanita" by Tony Rice, Josh Williams, Aaron Ramsey, Aubrey Haynie & Rob Ickes received a nomination for Instrumental Recorded Event of the Year.
Darrel and Phyllis Adkins founded Musicians Against Childhood Cancer in honor of their daughter, Mandy who lost her battle with cancer on November 25, 2000. Proceeds from the annual festival and album benefit St. Jude Children's Research Hospital in Memphis, Tennessee. For more information on Musicians Against Childhood Cancer, please visit their website at www.BluegrassClassic.com [1]