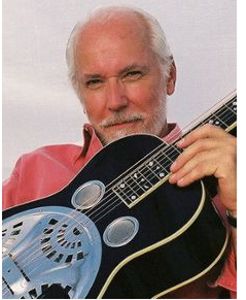 Rob Ickes, Dobro player for the bluegrass music group Blue Highway wrote to express his appreciation for Mike Auldridge's Fellowship award from the National Endowment of the Arts. Rob says, "This is a special week for someone who is my mentor, and an icon not only in the dobro community, but in the world of music."
Rob continues saying, "Mike Auldridge will be in Washington, D.C. this week to receive the National Endowment of the Arts National Heritage Fellowship - the nation's highest honor in folk and traditional arts.
"The first time I heard Mike play, it literally changed my life. I started playing the dobro the next day and have kept at it ever since. I know he has inspired thousands of others as well.
"I'm hoping you will join me in congratulating Mike. We have set up a special website celebrating this honor, with information about Mike and the NEA National Heritage Fellowship, and a Guest Book you can use to send a tribute or message of congratulations to Mike. Please post your message ASAP, since Mike will be seeing the Guest Book very soon. The site also has the text of the presentation of IBMA's Distinguished Achievement Award to Mike in 2007, which I was honored to present.
Thanks for taking the time to post a tribute or message for Mike (use the links below), and for joining me in sending good wishes his way throughout this special week.
~Rob
Website [1] | Guest Book [2] | IBMA Presentation [3]
Cybergrass article Bluegrass Dobro Player Mike Auldridge Awarded 2012 National Heritage Fellowship [4]
NEA National Heritage Fellows to Perform in Free Concert [5] October 4th