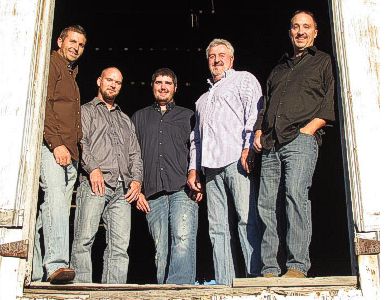 Hammertowne is most excited to announce our partnership with Deep River Management relative to booking and promotional services. Deep River Management has, and in a very short time, built a roster of some of the finest young acts in bluegrass music including Shannon & Heather Slaughter & County Clare, The Darren Beachley Band and many others.
In Most Cases, much forethought, planning, and sometimes recruiting, goes into forming a musical unit. But not in this case. This group of musicians gathered in a studio as session players on a solo effort, and something special transpired.
After the stop button had been hit on the first take of the first song, several seconds of complete silence filled the place, until finally from the control room came... "WOW." The energy and musical compatability was so strong, that the fellows decided they wanted to... Take it outside! Thus... Hammertowne was born!
With these guys, its simply all about the music, and having more fun on stage than should be legal. They truly love playing the music that they play, and truly love the people they are playing it with.
"Deep River Management is excited about the signing of Hammertowne to our group of artist. We believe that Hammertowne has the makings of a superb bluegrass band with great vocals, crisp instrumentation, a professional stage presence, stellar songwriters, and a band that just enjoys playing bluegrass music. Agencies are always looking for a Diamond in the Rough, but this Diamond needs very little polishing. Once you hear this band, we believe you will agree! (John Lockaby, Owner/Agent Deep River Management.)