Barnyard Bluegrass App Joins the YogiPlay Family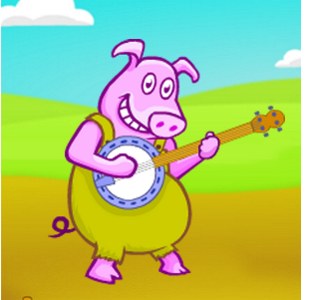 Barnyard Bluegrass, a Parenting Magazine "Best Kids App," is proud to announce its selection as a "boosted" YogiPlay app. This uniquely lovable music app, which provides both outstanding education and entertainment value, now offers even more ways to engage users and encourage real learning on iPads and iPhones. This is accomplished through both YogiPlay's in-game incentives for kids as well as its sophisticated and personalized recommendation engine, which guides parents, rather than just kids, to the other ability appropriate and educationally valuable apps. As with all YogiPlay boosted apps, Barnyard Bluegrass was approved by a team of educators.
As YogiPlay CEO, Cedric Sellin states "At YogiPlay, our number one mission is to find and promote the highest quality, educator-approved mobile apps for children available on the market today. Barnyard Bluegrass by Whynoceros is a great example of a high-quality app for kids. It's rich interactive experience with fun characters and favorite songs, entices little kids to learn about music. Barnyard Bluegrass is a great musical app that we're proud to promote."
Tapping into children's existing love of song, Barnyard Bluegrass offers "yee-haw worthy" renditions of classics like Old MacDonald, Turkey in the Straw, and Hole in the Bucket. For a more traditional taste of the style, there are several ageless bluegrass standards, namely: Pig in a Pen, Blue Railroad Train, Cluck Old Hen, and Nine Pound Hammer.
As if that wasn't enough, there are three other areas of the app where visitors can delve deeper into the genre and make music of their own. Users can select an instrument and play it using a simple one-finger controller, read about the instruments and hear samples, or head to the farmer's porch and jam with the entire band. Each area offers a different perspective on the music and gives young learners plenty of room to explore and create.
To bring this much loved genre to life, we called upon Astrograss, a staple of the NYC Bluegrass and Kids Music Scene, to perform just those tunes that would best connect to young users. All music was recorded and mixed specifically for mobile devices at Inner Harbor Studios, NYC.
Barnyard Bluegrass is available in both LITE (free) and FULL ($1.99) versions and is compatible with iPhone, iPad, and iPod Touch.
Whynoceros is dedicated to bringing original ideas to thinkers and daydreamers of all ages. Focusing on music, education, stories, and puzzles, Whynoceros leverages the engagement and interactivity of mobile apps to deliver enduring original content. Whynoceros has also released the 5-star-rated storybook app, Flight of the Pamplemousse, as well as the Chopin Alarm Clock.
YogiPlay is the first personalized mobile learning apps recommendation engine designed specifically for children from ages 3 to 8. YogiPlay provides parents with valuable insight into their child's learning and play patterns, along with meaningful personalized app recommendations tailor-made to meet each child's specific learning needs. YogiPlay is now available on Apple devices, Android devices, Nook and Kindle, so look for YogiPlay-boosted apps in your preferred app marketplace. YogiPlay is a venture-backed company with investment partners that include DN Capital and Richmond Park Partners. http://www.yogiplay.com [1] align=embed src=