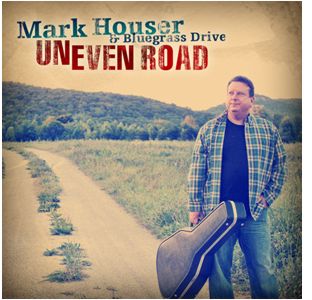 Nashville, TN (September 21, 2012) -- Rural Rhythm Records is proud to announce the new album, Uneven Road by Mark Houser & Bluegrass Drive debuts this week at #9 on the Billboard Bluegrass Albums Chart [1].
Mark recently held a "Bluegrass on the Green" concert that was hosted by Philip Gibbons of Country Giant 94.7 Radio. This exciting event featured performances by Mark Houser, Carrie Hassler, Delnora Reed, Arlo Gilliam, Wilder Mountain and Jim Bowman. Livingston Mayor Curtis Hayes, Livingston-Overton County Chamber of Commerce Director Greg McDonald, and Overton County Executive Ron Cyrus were in attendance to celebrate Mark's new album.
Mark's songs have topped the Bluegrass charts including the hit, "Seven Miles From Wichita" by Rural Rhythm artist Carrie Hassler. Mark first received Country acclaim with "God Only Knows" by Curb Records artist Rodney Atkins. Houser wrote many songs with Atkins including six on the developmental project that landed Atkins a major label recording contract with Curb Records. "Houser is the first guy that wrote songs with me. Convinced me I wasn't crazy for believing music was magical. God only knows where I'd be if I hadn't met Mark," said Atkins.
Uneven Road includes the recently released first single, "River of Regret" written by Mark Houser, Arlo Gilliam, and Carrie Hassler. This exciting new album features the talents of: Rhonda Vincent, Andy Leftwich, Cody Kilby, Barry Bales, Cory Walker, Scotty Sanders, Paul Brewster, Dawn Sears, and more. The album was co-produced by Mark Houser and Little River Band guitarist, Rich Herring.
For more information on Mark Houser, and to order your copy of Uneven Road, please visit MarkHouserbluegrass.com and for more information on Rural Rhythm Records, please visit RuralRhythm.com