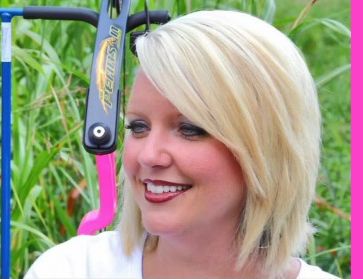 Atlanta, GA -- Mary J. Hale, Founder and CEO of The Pink Arrow Project is proud to announce acclaimed vocalist, Carrie Hassler has joined organization to help raise awareness to the project. The two recently sat down to together to talk about The Pink Arrow Project and what the organization does to help those in need and with cancer research.
"As soon as I heard about it and what you were doing, I knew I wanted to be a part of it. The more people that find out about The Pink Arrow Project, the more it will keep growing," said Carrie. "I want to volunteer my time and my efforts in any way I can. I encourage not only other music artists, but any business or individual to definitely check out The Pink Arrow Project. You don't have to be an Archer to help."
"Our organization began as Archers Helping Archers. When I was ill, that is who took care of me and I want to give back. We not only help families in need, but we donate to organizations that are doing groundbreaking cancer research," explained Hale.
She continued saying, "Carrie is our first music artist to be part of The Pink Arrow Project." Carrie, who had never shot a bow before, recently spent some time with Mary and thoroughly enjoyed being introduced to Archery. Hale was thrilled at how fast she learned, stating, "I want you to know you have been the best archery student I have ever had. It didn't take us 30 minutes to get you shooting bulls eyes. I'm going to be watching out for you on the range!"
The Pink Arrow Project recently launched a new "On Target" fundraising campaign to promote their line of "Pink" archery products benefiting cancer research. The "On Target" campaign features the fictional character, "Karing." With a purchase of an "On Target" promotional poster or sticker, you are helping in the fight against cancer and helping those who need it most.
The Product that started the pink revolution was extraordinary Pink Victory Arrow which fans not only shoot, but regularly carry in their quiver to show their support. The Pink Arrow Project now carries numerous archery products by manufacturers such as Victory Archery, Bohning, Lumenok, InnerLoc, InnerLoc Out-There, Ulrimate Hunt, Watson Airlock, AUC LOK, Alpin Optics, Backwoods Life, Barnsdale Archery, Ben Pearson, Bills Archery, Bowhunting.Net, Doinker, Hunting in the Wild, Inside Outdoors TV, Instinct Archery, Lakeland Products, Last Chance, Opti Logic, Scott Strings, Shoot Like a Girl, Specialty Archery, Stink Stick, Viper and Extreme Whitetail Deer Farm and Scents.
For more information on The Pink Arrow Project, please visit PinkArrowProject.com, Facebook and Twitter. Carrie Hassler is sponsored by Moon Pie™, French's Shoes & Boots and endorses The Pink Arrow Project. For more information, please visit her brand new website at www.carriehassler.com [1].