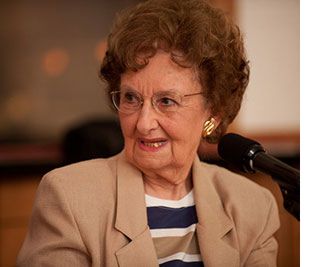 Nashville, TN -- The Country Music Hall of Fame® and Museum's quarterly program series Nashville Cats: A Celebration of Music City Musicians returns on Saturday, September 29, with a salute to singer Millie Kirkham. The 1:30 p.m. in-depth interview, held in the museum's Ford Theater, is included with museum admission and free to museum members. The program will be streamed live at CountryMusicHallOfFame.org [1].
Hosted by Bill Lloyd, the program will include an in-depth, one-on-one interview illustrated with vintage recordings, photos and film clips from the museum's Frist Library and Archive. Seating for the program is limited, and program passes are required for admittance. Immediately following, Kirkham will sign limited edition, commemorative Hatch Show Print® posters. (Visit the museum's website for complete admission and signing details.)
As a harmony singer Millie Kirkham has added her high soprano vocals to a long list of classic country, gospel, pop and rock 'n' roll records. Among them are Eddy Arnold's "What's He Doing in My World;" Ferlin Husky's "Gone;" George Jones's "He Stopped Loving Her Today;" Roy Orbison "It's Over" and numerous Elvis Presley recordings, including "Blue Christmas," "How Great Thou Art," "The Wonder of You," and many others.
Mildred (Eakes) Kirkham was born on June 24, 1923, in Hermitage, Tennessee. She grew up in Donelson, played clarinet in the high school band and sang in the church choir. After high school, she got a job working for National Life and Accident Insurance, where she joined the National Life and Accident Insurance Girls' Glee Club. In 1946, Kirkham got a job as a secretary for WSM-AM's programming director Jack Stapp.
Stapp recruited singer Anita Kerr to compose musical arrangements and put together an ensemble to perform on WSM broadcasts. Kirkham and her husband, singer-drummer Doug Kirkham, were invited to join Kerr's octet. The group became a regular on WSM's Sunday Down South and also performed on other radio and television programs. Such performances made the transition to recording sessions a natural one. Its first recording session was for Red Foley's "Our Lady of Fatima." The group began booking more sessions, so Kirkham left WSM in 1954 and devoted her time to recording. When Kerr eventually reduced the group to a quartet, both Kirkhams became freelance musicians.
Kirkham collaborated for years with vocal quartet the Jordanaires. In their first session together, she sang harmony on Husky's recording of "Gone," in 1956. The blend of background vocals and string arrangements contributed to the lush, pop-flavored production that made "Gone" one of the trademark songs of the Nashville Sound.
It was Kirkham's high soprano vocals on "Gone" that caught the attention of Elvis Presley. In 1957, she added her voice to the first of many recordings by Presley. "Blue Christmas" was one of the songs on the session. Kirkham recorded with Presley for 18 years and contributed to some of his movie soundtracks, Vegas recordings and live performances.
Kirkham recorded with pop, country and rock 'n' roll artists. Among them are Rosemary Clooney, Perry Como, Jerry Lee Lewis, Loretta Lynn, Roy Orbison, Charley Pride and more. In 1981, Kirkham lent her voice to one of the greatest country songs of all time—George Jones's "He Stopped Loving Her Today."
Though Kirkham stopped recording regularly in the 1980s, she toured the U.S. and Europe with "Elvis—The Concert" in the late 1990s. She continues the occasional recording session and performs with Ronnie McDowell.
The Nashville Cats series is made possible, in part, by grants from the Metropolitan Nashville Arts Commission and by an agreement between the Tennessee Arts Commission and National Endowment for the Arts.a target=p