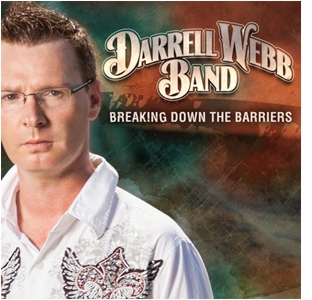 Nashville, TN (September 4, 2012) – 2012 International Bluegrass Music Association (IBMA) Emerging Artist of the Year Nominee, Darrell Webb Band will be the featured artist on an upcoming episode of Rural Rhythm's Behind the Dream™ TV Show premiering on BlueHighways TV Thursday, September 20 at 8:30 pm ET. The show will re-air on Thursday, September 20 (11:30 pm ET), Saturday, September 22 (4:30 pm ET), and Tuesday, September 25 (5:30 pm ET).
The group can also be seen on the upcoming Lost Echoes Production TV special Bluegrass Comes to the Valley Part 1 (airing September 10 – 16) and Part 2 (airing September 17 – 23). This exciting new show debuts on Reno's Old Time Music Festival" on RFD-TV and is hosted by Ronnie Reno. The event was supported by the Mt. Vernon-RockCastle County Tourist Commission and the City of Mt. Vernon.
Rural Rhythm Records just released the Darrell Webb Band's new album, Breaking Down the Barriers, that includes the first single, "She's Out of Here." The band includes the talents of: Darrell Webb (Lead Vocals, Mandolin); Jake Joines (Resonator Guitar); Jared Hensley (Acoustic Guitar, Harmony Vocals); Jeremy Arrowood (Acoustic Bass, Harmony Vocals); and Chris Wade (Banjo).
Breaking Down the Barriers is the band's second album on Rural Rhythm Records and was produced by Grammy® nominated solo artist and Grammy® winning session musician, producer, songwriter, and Mountain Heart band member, Jim VanCleve. The album is available for purchase at Amazon, iTunes, Rural Rhythm Records, and more outlets.
For more information on the band including upcoming tour dates and more information, please visit DarrellWebbBand.com [1]. Fans can also text "TO 69937" to receive a free ringtone. For more information on Rural Rhythm, please visit RuralRhythm.com [2]_blank