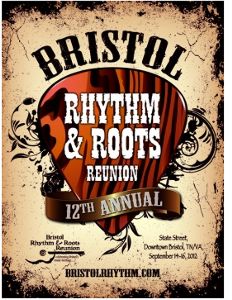 Bristol, TN/VA -- The schedule is up, plans are set, and The Birthplace of Country Music is in full-on festival mode. Bristol Rhythm & Roots Reunion is just weeks away. This year Bristol Rhythm & Roots has added stages, bringing the total up to 24. With more than 160 live acts, you can look forward to seeing music at the new Machiavelli's Outdoor Tent, located just across the street from the eatery. CityMug @CityMac, Shelbee's Vintage Cafe and The Cradle Stage inside the former Ruth King Antiques building are new venues for music fans to gather and enjoy the music.
You can still purchase Weekend Passes for $40 through August 31st. We highly suggest taking advantage of the discount, the price for Weekend Passes go up to $50 September 1st and are $60 at the Gate on Friday, September 14th. Day passes can be purchased at any time and the price does not change. Friday $25, Saturday $30, Sunday $20. Save time. Print passes from home online at www.BristolRhythm.com [1]. Your printed pass will be scanned at the Gate and exchanged for a wristband that will get you in and out of the event. , $40 Weekend Passes are a sublime price point.
Bristol Rhythm & Roots Reunion is proud to announce that the annual music festival has been nominated for Best Bluegrass Event of the Year by the International Bluegrass Music Association. This is the first time The Reunion has been nomiated for such an honor.
"It's among the most prestigious honors we as a music festival could ever receive," says Bristol Rhythm & Roots Reunion Executive Director Leah Ross. "Not only were we nomiated, but a number of artists who are playing our festival this year--and have played in the past--have also been nominated. It's a huge compliment for our Music Committee, who work sho hard booking these phenomenal acts."
Fellow artist nominees who will be playing Bristol Rhythm 2012 include Doyle Lawson & Quicksilver, Sam Bush Band, Dale Ann Bradley, Sierra Hull, The Gibson Brothers, The Boxcars, and Della Mae.
This year Bristol Rhythm & Roots Reunion achieved two Pinnacle Awards in Special Events & Advertising from the Northeast Tennessee Tourism Association, bringing them up to 11 Pinnacles since 2004. They were also listed in the top three Best Large Music Venues by Virginia Living Magazine. In 2010 the festival was given the Shining Example Award for Festival of the Year by Southeast Tourism Society. In 2009 Bristol brought home the Virgo Award for Best Destination Event of the Year from the Virginia Association of Convention & Visitors Bureaus.
Saturday, September 15th at 10:30am and 11:15am from The United Company Cradle Stage (formerly Ruth King Antiques, 618 State Guest Lecturers Ted Olson and Jessica Turner will speak on the full scope of Bristol's past, present, and future as The Birthplace of Country Music. Ted Olson is a Professor at East Tennessee State University and recently earned a Grammy nomination for his work on the Bristol Sessions CD box set release. He is currently working on a similar project about the lesser-known Johnson City Sessions. Jessica Turner is the coordinator for the Cultural Heritage Studies and Public Arts Program at Virginia Intermont College and sits on the board of the Birthplace of Country Music Alliance. She will discuss the future Birthplace of Country Music Cultural Heritage Center building project.
Lots to do, see, hear and participate in. Head to Bristol for an outstanding cultural experience where country music was born.