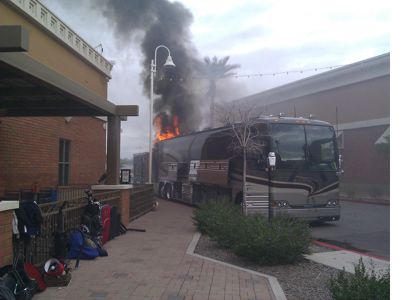 Nashville, TN -- /CMA/ By Joseph Hudak
Jerrod Niemann had just climbed aboard his tour bus after a March benefit show in Chattanooga, Tenn., for St. Jude Children's Research Hospital when his friend and fellow artist Lee Brice smelled something all too familiar — the acrid odor of a bus beginning to burn.
"It smelled like a heater kicking on," recalled Niemann, who took Brice's advice and stepped outside to investigate. "I turned the corner and there were flames coming out of this little vent in the back. They were maybe 10 inches long. I thought we could put it out with the fire extinguisher, but then all of a sudden the whole back end was on fire."
Cell phone footage on YouTube captured the blaze, culminating with both the tires and windows exploding. "The windshield blew out with the blinds still stuck to it," Niemann added.
Scary stuff. But when considering that Niemann's was the fourth bus to catch fire in less than two years that was carrying a Country singer, it's particularly troubling. In February 2011, Justin Moore's coach suffered a minor fire. A month later, Randy Houser lost clothing and personal effects when his bus burned. And in January, Brice's ride caught fire after a 10-hour drive from California to Mesa, Ariz.
"It was about lunchtime and I was still sleeping," Brice said. "All of a sudden I heard, 'You gotta get off the bus!' I thought it was a prank. But then I got out of bed and there was smoke in the back of the room. And that isn't campfire smoke. Those fumes are toxic. When I walked outside of Jerrod's bus I saw the exact same smoke. As soon as I saw that smoke in the same spot, I knew something was happening."
In all four instances, the artists, their bands and their crews escaped safely. But the fires do raise the question of what artists can do to prevent such near tragedies and, just as importantly, how they can soldier on if a fire does occur while on tour.
Chip Huffman, co-founder of The Celebrity Bus Drivers Academy, which trains and places drivers throughout the touring industry, says that the top priority of any bus company should be to ensure the mobility of the act. "You do whatever you have to do to move the artist or the crew," he emphasized. "Any reputable company is going to scour not only their own fleet but also the fleets of other companies to get the artist another bus. If there is a fire or a breakdown, the company is responsible for getting you home. And that's one of the reasons almost every artist leases (rather than buys) a tour bus."
Steve Emley, Niemann's manager at Fitzgerald Hartley — who was on the bus during his client's fire — agrees that it's best for artists to lease their vehicles. "I'm a big proponent of leasing," he said. "It's a lot of work to maintain a bus and own it. And the bus is the most important vehicle on the tour. In Jerrod's case, after we called the fire department, we called the bus company and they immediately dispatched another bus to pick us up."
Randy Houser's bus company did likewise after his fire in South Carolina. But unlike Niemann, who didn't have any gear or possessions on his bus when it burned (he was simply road-testing it on a short hop to Chattanooga), Houser lost the bulk of his clothing and some of his band's equipment.
"We'd been on that bus for over a year, so we had all our stuff on it," Houser said. "I lost all my stage clothes. That night, I ended up playing in crappy little shorts and a dirty T-shirt. And it's not like any of us are rich. When we lose something, it's a real loss, because everyone saves every dime to buy every piece of equipment they've got."
Houser noted that he is still waiting for the insurance company to do its part. "We haven't gotten anything back from the insurance and it's been over a year," said the singer/songwriter, whose single "How Country Feels" (written by Vicky McGehee, Wendell Mobley and Neil Thrasher) was released in May. "I'd just like to be able to replace the things we lost."
To that end, Huffman advises all artists to have their own coverage. While the bus companies do carry insurance, it seldom covers the possessions of those who lease the vehicle. "The safest thing is to have your own insurance," he said. "The bus insurance is going to say that no personal items are covered. Most bus companies' policies do not insure for personal effects, musical instruments or gear. It can get a little sticky with the different insurance companies blaming one another."
Insurance questions might be more readily resolved if the causes of the fires were known. But Emley says that he and Niemann have yet to hear what sparked the blaze. "The bus has just gotten back to Nashville, actually," he noted. "It was in Chattanooga for a few weeks until they figured out how to get it back. It couldn't be driven or towed; it had to be lifted. I talked to the bus company again and we still don't know what the cause is. In that case, it's hard to figure out what the next step is to protect somebody."
"The problem is that it burns so hot that it totally ruins everything," concurred Brice. "So there's no way to really tell the cause."
"It's just scary as hell," Houser admitted. "You think you're safe on a vehicle like this, and then you're sitting there and all of a sudden your stuff is on fire."
Any number of things can spark a bus fire, but wary travelers might find some solace in the fact that these disasters almost never happen while wheels are in motion. "Most of the buses that catch on fire and burn to the ground are stationary," said Nick Audino, CEO of Superior Coach Interiors and a former driver himself. "If they're rolling, it'd be a chassis issue, like a hole in an exhaust pipe or a brake fire."
According to Audino, the three most likely causes of a coach blaze are a mechanical fire in the chassis, a fire in a component of the bus, such as an air conditioner, or a poor decision on the part of a client. "I had a bus that burned to the ground because the artist lit a candle in a cup holder," he said. "The candle burned down into the plastic holder and ignited the bus."
There are plenty of ways to cut down on the probability of a bus fire, beginning with installing smoke detectors in the cabin and storage bays. "The main thing I would suggest is that before you leave on tour, make sure that you are dealing with one of the reputable bus companies," Huffman advised. "Ask other artists or tour managers in the business what companies they have dealt with and how they have reacted when there was a fire or a breakdown. Make sure you get with a company that values customer service, because there are some out there that don't."
And, said Niemann, when in doubt, always listen to your pals. "When Lee said to get off the bus, I said, 'You're just paranoid. There's no way this bus is on fire too.' But I grabbed my guitar and my backpack and walked off."
Stopping to reflect on the worst-case scenario, he concluded, "I'm just so thankful that it didn't happen when we were driving, because that would have fanned the flames and we wouldn't have smelled it. It might have been adios."
"A lot of things are out of the artist's control when it comes to the nuts and bolts of something like a bus fire," Emley said. "It can be scary for artists. Everybody's livelihood — it doesn't matter if it's the label or a booking agent or a publicist or management — depends on the artist. So we have to keep those guys and girls safe."
© 2012 CMA Close Up® News Service / Country Music Association®, Inc. All photos also copyright CMA.