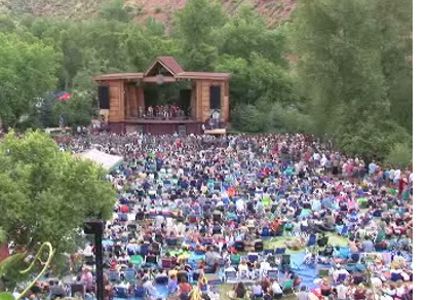 The 40th annual RockyGrass Bluegrass Music Festival July 27-29 has been one of Colorado's most beloved festivals since Bill Monroe met with members of the Colorado Bluegrass Music Society in 1972 and founded the musical association (originally called the Rocky Mountain Bluegrass Festival). The picturesque setting along the banks of the St.Vrain River offers an acoustical wonderland as the music echoes off the river's steep cliffs in the foothills of the Rocky Mountains. Bluegrass fans from across the U.S., Canada, and around the world flock to the Planet Bluegrass meadow below the cliffs. Bluegrass music will echo through the valley for three full days.
The lineup is always outstanding and this 30th Anniversary year is a real winner with Sam Bush Bluegrass Band, Punch Brothers, Lonesome River Band, Bobby Osborne & the Rocky Top X-Press, Dr. Ralph Stanley & His Clinch Mountain Boys, Jesse McReynolds & The Virginia Boys, Michael Cleveland & Flame Keeper, Peter Rowan & The Travelin' McCourys, Seldom Scene and a whole bunch more.
With the announcement of the single-day lineup for the 40th RockyGrass, we can already start to hear the mandolins and banjos echoing off the cliffs of the St. Vrain River in Lyons. Make sure you're signed up for our Notes from the Planet [1] email newsletter and follow us on Facebook for all the latest news from Festivarian Nation.
RockyGrass is held at the Planet Bluegrass Ranch in Lyons, Colorado - located along the wooded banks of the beautiful St. Vrain River. The historic quarry town of Lyons is just 15 miles north of Boulder in the foothills of the Rocky Mountains. The town is known for its antique stores, restaurants, artists, and musicians.
Numerous camping options nearby include: on-site at the festival grounds, under the cliffs at Meadow Park (a quick five-minute walk from the festival), or at the Olson Campground (a 10-minute walk or via the free shuttle buses).
Non-musical activities in and around Lyons include single-track mountain biking at Hall Ranch, river sports in the Meadow Park whitewater course, touring through Rocky Mountain National Park (40 minutes up the hill from Lyons), and hiking in the nearby National Forest lands.
A day at RockyGrass starts with a campground breakfast or a quick walk to downtown Lyons to relax at one of the fine coffee shops. Whether walking the campgrounds or Main Street in Lyons, live bluegrass music already fills the air. Soon the sound of bagpipes echoes off the canyon walls, signaling the opening of the festival grounds and the morning tarp rush.
Get all the RockyGrass info at Planet Bluegrass online http://www.bluegrass.com/rockygrass/ [2]