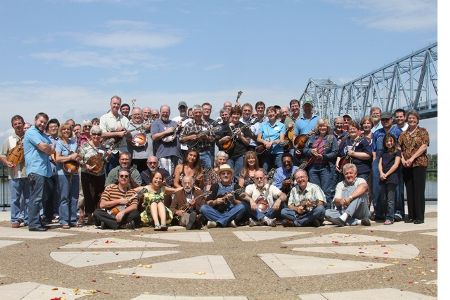 The International Bluegrass Music Museum in Owensboro, Kentucky has announced that the 7th Annual Monroe-Style Mandolin Camp will be held September 14 through 16, 2012. At the Monroe-Style Mandolin Camp, you will spend three days with the finest mandolin faculty and luthiers and up to 50 of the coolest mandolin students you'll find on Planet Earth. With registration for each camp capped at 50, the camps' intimate environment allows for ample opportunities to receive personal, hands-on instruction from each of these legends of Monroe-Style mandolin.
Jam with new friends surrounded by Bill Monroe's artifacts. Eat great barbeque and discover why Owensboro's famous for barbeque. Experience rare performances by master musicians, onstage and off. Enjoy a total immersion in bluegrass music's homeland, history and future at the world's only bluegrass music museum dedicated to preserving the international history and performance art of bluegrass music…all the while surrounded by rare bluegrass memorabilia. Compare, sell or swap mandolins with other players. Be part of the museum and let it become an integral part of your life and music.
The 2012 Staff includes:
Mike Compton

Mike Compton, Camp Director, has been performing professionally since 1977 and has performed with many greats including Hubert Davis, John Hartford, Dr. Ralph Stanley, Elvis Costello. He travels the world as part of the Nashville Bluegrass Band and other bands. Mike does numerous workshops and music camps throughout the year. He also composes and teaches, passing along the treasures he acquired from his mentor and friend, Bill Monroe.

Richie (Dr. Richard) Brown

Dr. Richie Brown, Associate Director, has been a part-time bluegrass musician in the Boston area since the mid-sixties. Richie's playing is heavily influenced by Bill Monroe's style and "old style" mandolin players. He currently plays mandolin and sings in the Boston-based Reunion Band and serves on the Board of Trustees for the International Bluegrass Music Museum.

David Davis

Alabama native and member of The Alabama Bluegrass Music Hall of Fame, David Davis has traveled and preformed as frontman for the bluegrass group, David Davis and the Warrior River Boys since 1984. He is recognized as one of the foremost practitioners of the Monroe mandolin techinique. His interest in old-time and bluegrass music grew organically from a musical family, both his father and grandfather were players and singers. His uncle, Cleo Davis, was Bill Monroe's original Blue Grass Boy.

Skip Gorman

Skip Gormanwas born in Rhode Island in 1949. He was introduced to traditional music early in his life at the age of eight, when he received his first guitar and a Jimmie Rodgers record. While growing up he was lucky to have the opportunity to see musicians like the legendary Texas fiddler, Eck Robertson, Bill Monroe and Maybelle Carter at the historic Newport Folk Festival. An encounter with Monroe at age twelve was a pivotal moment in the young musician's life, and aside from being a masterful cowboy singer and fine fiddler, Gorman is one of the premier mandolinists in the style of Bill Monroe.

Chris Henry

Chris Henry, son of bluegrass veterans Red and Murphy Henry, has been playing mandolin for 25 of his 31 years. He grew up in Winchester, Virginia, with some of the finest bluegrass musicians around including his parents, David McLaughlin, Scott Brannon, Lynn Morris, and Marshall Wilborn, among other excellent locals including Reno-style banjo picker Dalton Brill. Chris' style is becoming more well known for a white-knuckle, traditional bluegrass approach, although he is known for throwing in many happy accidentals from time to time. He has performed or recorded with contemporary national acts such as Shawn Camp, Peter Rowan, Bill Emerson, Dale Crider, Verlon Thompson, 1946, Audie Blaylock and Redline, the Lynn Morris Band, and many more.
The 2011 Bill Monroe-Style Mandolin Camp was a smashing success. Huge thanks to the sponsors: Kentucky Arts Council, Kentucky Folk Life, Sleep Inn of Owensboro, D'Addario String Foundation, Mandolin Cafe, and Red Diamond Mandolin.
Registration and additional information is available on the Mando Camp website [1].