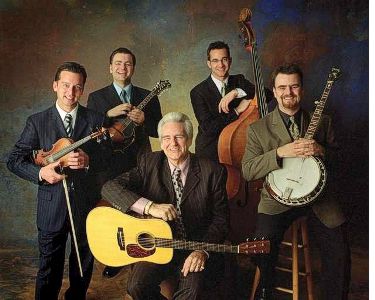 The Grey Fox Bluegrass Festival is a Who's Who of Bluegrass Music and it's no wonder that this festival is one of America's finest for the genre. The festivities begin in just a few days as the event runs from July 19-22. Four days, six stages and dozens of award winning bluegrass artists all in one fine place. In a serene setting at the Walsh Farm in Oak Hill, New York you'll find an awesome collection of mighty fine bluegrass talent to entertain you. Dry Branch Fire Squad traditionally hosts the four day event.
Come to Grey Fox and be with the COOL crowd. This year you'll find two colossal shade tents in the High Meadow Stage area, Mist tents here and there to cool off in, a beautiful creek to dangle your feet in, the best ice cream and sorbets known to mankind amazing "fans" who come from around the world to hear the coolest music in the Universe. That's Grey Fox [1]!
Tickets are flyin' off the shelves but are still available [2] while they last.
This year's artist roster overflows with Grammy, IBMA, AMA and CMA award winners and nominees such as Hot Rize (and their alter egos, Red Knuckles and the Trail Blazers), Del McCoury, the David Grisman Sextet, the Infamous Stringdusters, Punch Brothers, David Bromberg, Mountain Heart, the Gibson Brothers, Chris Thile and Michael Daves Duo, The SteelDrivers, Blue Highway, Noam Pikelny, Aoife O'Donovan, and Tony Trischka. Host band, as always, will be Dry Branch Fire Squad, led by one of the great raconteurs of bluegrass, Ron Thomason. And the lineup is still growing, so stay tuned for more great bands yet to be announced. Click to see full lineup (so far, that is).
As much as Grey Fox Bluegrass Festival is known for its well-established, highly-decorated and internationally recognized lineup, it is equally famous for introducing hot, young bands to the Northeast, quite often jumpstarting their careers. Red hot, up-and-coming talent at this year's Grey Fox are: The Hillbenders (actually back for the third consecutive year); Frank Solivan & Dirty Kitchen and Monroeville (returning due to popular demand); Bearfoot (originally from Alaska); country-blues singer from Chicago, Sarah and the Tall Boys; acclaimed songwriters Ann and Pete Sibley; the jazz-grass band, Too Blue; and Albany area favorites, Jim Gaudet and the Railroad Boys.
And as if three big, beautiful performance venues aren't enough, Grey Fox producer, Mary Tyler Doub, is all about education and providing ways to pass bluegrass music on to new audiences, new players and especially, to the next generation. To this end, Grey Fox presents hands-on Workshops, user-friendly Slow Jams, and a Family Tent with shows and activities each day for kids of all ages. Last, but not least, is the very popular Bluegrass Academy for Kids, a four-day music camp held during the festival with daily classes in all bluegrass stringed instruments and harmony singing, which culminates with a performance on the Main Stage on Sunday afternoon. Academy registration starts April 1.
Once a year, like magic, a small tent city appears in a farmer's field in Oak Hill, NY, about 30 miles southwest of Albany, NY. For five days in July, it is home to thousands of bluegrass and roots music fans from 30 to 40 states and several countries, often including visitors from Ireland, Scotland, France, Italy, Spain, Norway, Sweden, Russia, the Czech Republic, and as far away as Australia, New Zealand and Japan. About a quarter attendees are day visitors, but the bulk of Grey Fox fans come to camp, enjoy the summer weather, hear their favorite bands, discover new ones, meet new and old friends and when the time is right they tune up their guitars, mandolins, banjos, fiddles and basses and jam until they drop.
Also in the works for Grey Fox 2012 are nightly artist showcases, a songwriter forum, presentations by the Berklee College of Music American Roots Music Program, a Bluegrass Band Open Mic Happening, and night sky viewings facilitated by Mid-Hudson Astronomical Society. Pete Wernick's Bluegrass Jam Camp will take place Monday, July 16 thru Thursday, July 19 at the Oak Hill Fire Hall for all levels of musicians who want to learn how to jam with others. (Register at DrBanjo.com)
There truly is something for every member of the family and every generation at Grey Fox. Come experience the magic of music. You might just come back every year!