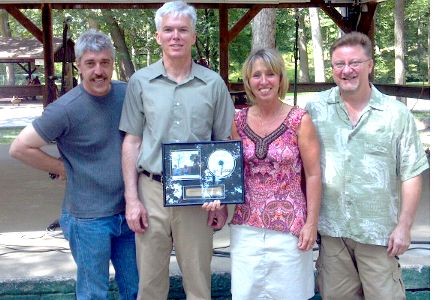 Bunker Hill, WV -- This July 14th, Hillbilly Daylilies will present their fourth annual
"Bloomin' Bash" to benefit the Berkeley County Humane Society. Hillbilly Daylilies, located in Bunker Hill, WV,
specializes in field grown daylilies and every July invites customers to visit and experience over 350 varieties of
daylilies in peak bloom. Customers are able to purchase the daylilies of their choice and Hillbilly Daylilies digs
and prepares them on the spot. Stoney Creek Bluegrass Band will provide live music during the event.
This year's Bloomin' Bash will not only showcase thousands of beautiful flowers in bloom, but also give visitors
the chance to participate in several educational workshops ranging from planting veggies for small spaces to
raising cacti and succulents. Hillbilly Daylilies owner and event coordinator, Lisa Giles, is thrilled about hosting
the fourth Bloomin' Bash. "I am so excited about this year's event. With added features and more community
programs participating, I am confident this will be our biggest Bash yet!" Last year, the event raised and donated
$3500 to the Berkeley County Humane Society's Spay and Neuter Program.
Admission is $10 per person, $5 for kids 6-12 and children under 5 years old are admitted free. Gates open at
9am and the event lasts until 5pm. Food and ice cream will be available from Big Daddy's BBQ and Rock Hill
Creamery with live bluegrass music by Stoney Creek, Drymill Road and Circa Blue. Antique tractors and Steam
Engines will be on display and daylilies will be for sale. The Berkeley-Jefferson Master Gardener Association will
be on hand giving out lots of gardening information and answering questions. The excitement will continue with
Sawjac Carvings, LLC's chainsaw carving demonstrations and River Riders' portable climbing wall! Vendors will
be selling everything from handcrafted log birdhouses to herb vinegars and dip mixes.
Workshops for adults include Veggies for Small Spaces 10am; The Modern Iris 11am; Plant This Not That 12pm;
Raising Cacti and Succulents 1pm; and Culinary Herbs and Edible Flowers 2pm. Kids can visit the Farm Animal
Exhibit and The Kids' Tent, hosted by Lauren Korzep of Shenandoah WIC who will engage children in fun,
hands-on gardening projects.
For more information and to pre-register for workshops: call 304-229-6698 or visit their website at
www.HillbillyDaylilies.com [1]. Hillbilly Daylilies is located at 1105 Giles Mill Road, Bunker Hill, WV 25413