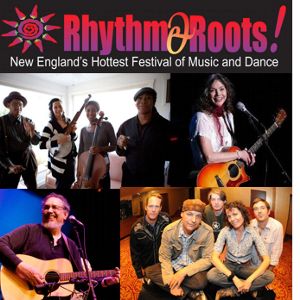 The 2012 Rhythm & Roots Festival, is pleased to announce it's 15th Anniversary Celebration lineup, featuring a host of all-stars from every direction in the world of Roots Music... from red hot Cajun and zydeco dance music and down and dirty blues, to the best of French Canadian rhythms, mesmerizing dance/groove tunes, and jumpin' early Southern black string music. You won't want to miss a beat—not even one!
Perhaps coolest of all: The Doctor will be in the house (Dr. House, that is, Hugh Laurie) with his incredible blues band, in striking contrast to the always intoxicating performances of Texas' most celebrated singer/songwriter, Ms. Nanci Griffith. And that's just the beginning! Here's your lineup. Quite the coup, and we did it just for you! Get your tickets! Come celebrate fifteen years with us and totally enjoy the last big weekend of the summer!
Here's the current lineup:
The Pine Leaf Boys, Our Host Band (Fri/Sat/Sun)
And proudly presenting...
Hugh Laurie & the Copper Bottom Band (Sat)
The David Bromberg Big Band (Sun)
Nancy Griffith (Sun)
Carolina Chocolate Drops (Sat)
Steve Riley & the Mamou Playboys (Sat/Sun)
La Bottine Souriante (Sat)
The Duhks (Sat/Sun)
Geno Delafose & French Rockin' Boogie (Fri/Sat)
Donna the Buffalo (Fri)
The Gourds (Fri/Sat)
Andre Thierry & Zydeco Magic (Sat/Sun)
Blackie & the Rodeo Kings (Sun)
Paul Cebar Tomorrow Sound (Sat/Sun)
Roddie Romero & the Hub City All Stars (Fri/Sat)
Johnny Nicholas & Hellbent (Sat)
Ed Poullard & Preston Frank (Sat/Sun)
Sarah & the Tall Boys (Fri/Sat/Sun)
Dennis Stroughmatt & Creole Stomp (Sat/Sun)
Golden Triangle (Sun)
Planet Zydeco (Sat/Sun)
Magnolia (Sat/Sun)
Hot Tamale Brass Band (Sat/Sun)
Plus, there will be wonderful workshop artists, fun family stage performers & our excellent, user-friendly dance instructors! It doesn't get any better than this!
Early Bird Ticket Special Ends June 30th! Buy Now & Save! You're still in luck! Buy now and save! Better yet, nail down your ticket now before the festival sells out. Such a deal! Click Here [1] for tickets and more info.