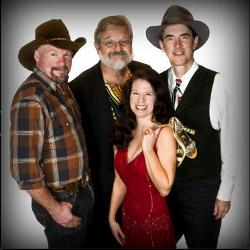 Bluegrass music group Kathy Boyd and Phoenix Rising will be joining Hudson Ridge and Young Bucs for the Star of Hope's 2011 Bluegrass Bash on August 27th. The 2010 event was such a hit that they are having a repeat fund raising event in beautiful Mingus Park in Coos Bay, Oregon for Star of Hope's 3rd Annual Bluegrass Bash!
The event will again feature local favorites, fantastic food, a variety of vendors, a quilt and 50/50 raffle and, best of all, another FREE Bluegrass Concert! Free transportation to and from the Bash will be provided from two different locations.
Star of Hope, has been helping people in Coos County reach their potential since 1964. What began as a grassroots group of parents of young adults with developmental disabilities has evolved into an organization that offers comprehensive services, from residential and vocational to supported living and employment.
Bluegrass music is a key element in the agency's fund raising event. Kathy Boyd and Phoenix Rising are happy to be a part of this important event. Kathy Boyd & Phoenix Rising hit the music scene hard and fast and have not slowed down one bit over the years... in fact, they continually pick up speed! With 3 successful CD's receiving international airplay, this group of songwriters is catching the ear of the listening audience and currently boasts both the current Roots Music Association Bluegrass Songwriter of the Year (Dennis Nelson) and the winner of the $10,000 2010 International City Love Music Contest (Tom Tower).
This group is all about the stories, and stories are what you get with their original material, culled from their individual and collective observations of life. Whether it's the high mournful old-country sound of Dennis Nelson, the storytelling baritone of Tom Tower, the vocal and instrumental virtuosity of Tim Crosby or the high energy sincerity of Kathy Boyd herself, this band offers something for everyone.
Star of Hope needs the community's help to continue their mission of aiding those less fortunate. Donations are always welcome.