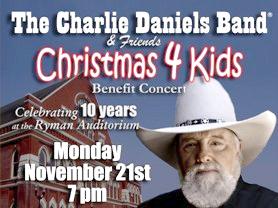 Nashville, TN -- For the 10th Anniversary of the Charlie Daniels Band & Friends Concert to benefit Christmas 4 Kids (a division of Christmas For Kids, Inc.), Grand Ole Opry member and country music legend Charlie Daniels has announced that Phil Vassar and Sawyer Brown will join him on Monday, November 21, 2011 at the Ryman Auditorium.
Christmas 4 Kids is a not-for-profit organization that has been in existence for over 25 years providing many children, each year, with their very own shopping spree. The funds generated by the concert, and the Tour Bus Show/Artist Meet and Greet event, are used to give over 400 children from 29 different schools, a day-long shopping excursion. The special day consists of a chauffeured trip from their school aboard an entertainer's luxury tour bus, lunch, and a party hosted by Santa and Mrs. Claus at College Heights Baptist Church. To wrap up the day, the tour buses journey to the Hendersonville, Tennessee Walmart, where the kids receive a brand new winter coat, and $150.00 to spend on anything they want!
Tickets for the concert are available through Christmas 4 Kids online at www.Christmas4kids.org [1], beginning September 15, 2011. Tier One tickets: $60.00, Tier Two tickets: $32.50 - available September 15, 2011. Any remaining reserved seating, Tier Two $32.50 only - available through Ticketmaster beginning October 21, 2011
This concert is sponsored in part by 95.5 WSM FM, Bob Parks Realty (Sumner County office), and coach manufacturer, Prevost Car, Inc.