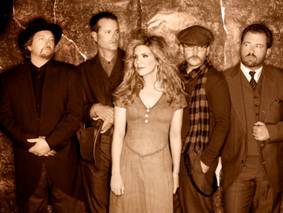 The Songwriter Series on AlisonKrauss.com [1] was created to provide an intimate glimpse into some of the songs recorded by Alison Krauss & Union Station. New entries will be added over the coming weeks, so please continue to check back for updates. Each entry has a short video with the highlighted songwriter which adds personality to the page and a personal touch with the respective songwriter.
The July 11th entry features "Bonita and Bill Butler" by Sidney Cox. The site notes, "We're all suffering the loss of those talking horses that once filled our living rooms, where they versed beautiful recitations of the colored ages that came before and so near us. The lack of their testimonies will broaden the searches for truth considerably. I'm afraid we've taken for granted a great benefactor of wisdom. And by not listening closely, we've allowed a lot of it to be buried with them..." There is more on the song writer series web page [2].
The June 14th entry was devoted to "Paper Airplane" by Robert Lee Castleman. "'Paper Airplane' is a simple song. All one has to do is doodle around on the guitar until you find a chord progression that is interestingly different enough to be somewhat familiar, then talk Alison Krauss into stopping by to hear it to lend the required inspiration. Then 'wait.' Knowing how much she loves a sad song, and having her in the same room for an afternoon is quite enough to make any old truck driver emote. The truth remains: True love is so very hard to find, that watching it come to an end can leave one without direction and at the mercy of the wind. Like a Paper Airplane." - Robert Lee Castleman.
Other songwriters on the Paper Airplane album include Peter Rowan, Angle Snow & Viktor Krauss, Aoife O'Donovan, Lori McKenna/Barry Dean/Liz Rose, Richard Thompson, Tim O'Brien, Barry Bales & Chris Stapleton, Jeremy Lister, and Jackson Brown.
The Songwriter Series [3] area of the AlisonKrauss.com web site will be updated with new songs being added when they're available.
A truly breathtaking collection of 11 exquisite songs, Paper Airplane is Krauss' 14th album and the band's follow-up to 2004's triple Grammy winning Lonely Runs Both Ways (Rounder). It is Krauss' first release since her 2007 internationally acclaimed, multi-platinum collaboration with Robert Plant, Raising Sand, which won six Grammys including "Record Of The Year" and "Album Of The Year."
Songs and songwriters featured on the Paper Airplane album include:
"Paper Airplane" (Robert Lee Castleman – Farm Use Only Music, BMI)
"Dust Bowl Children" (Peter Rowan – Sea Lion Music, BMI)
"Lie Awake" (Angel Snow/Viktor Krauss – Emmett Till Publishing, ASCAP/Split Window Music, BMI)
"Lay My Burden Down" (Aoife O'Donovan – Cosmic Seed Music, ASCAP)
"My Love Follows You Where You Go" (Lori McKenna/Barry Dean/Liz Rose – Barrytones, BMI/Universal Music Careers, BMI/Wagnerville Music, BMI)
"Dimming of the Day" (Richard Thompson – Beeswing Music, BMI)
"On the Outside Looking In" (Tim O'Brien – Howdy Skies Music c/o Bash Music, ASCAP)
"Miles to Go" (Barry Bales/Chris Stapleton – Quackhead Music, BMI/House of Sea Gayle Music, ASCAP/New Son of a Miner Songs, ASCAP)
"Sinking Stone" (Jeremy Lister – Jeremy Lister Music c/o WB Music Corp., ASCAP)
"Bonita and Bill Butler" (Sidney Cox – Third Row Entertainment, BMI)
"My Opening Farewell" (Jackson Browne – Criterion Music Corp., ASCAP/Open Window Music, ASCAP)