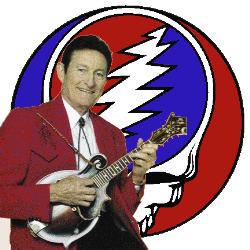 The music made famous by the legendary Grateful Dead will be heard at the World Famous Station Inn on Thursday, August 4th. Grand Ole Opry star and bluegrass luminary Jesse McReynolds will mark the Nashville debut of music from his newest album Songs of the Grateful Dead: A Tribute to Jerry Garcia & Robert Hunter in a special concert. This is Jesse's most ambitious project to date combining the unique music of the iconic rock band with his signature bluegrass style. Grateful Dead historian Dennis McNally says, "If Jerry [Garcia] had managed to live to 80 and been from the South, he'd sound like Jesse McReynolds. It's one of the great American voices singing great American songs."
The project and the music contained within has already received a collection of rave reviews. Jon Takiff of the Philadelphia Daily News said the album, "underscores the Dead's old-timey and bluegrass soul," while Greg Cahill from the Pacific Sun called it "a generous portion of country comfort." Grateful Dead lyricist and collaborator on the album, Robert Hunter, wrote, "Jesse's singing voice is like a long-lost brother voice between Jerry Garcia and David Nelson." Brian Robbins of Relix Magazine concludes, "Jerry would have loved it."
Jesse will be joined by the musicians featured on the project to play selections from the thirteen-track album at one of Nashville's premiere music venues. The music will begin at 9:00 PM CST at the World Famous Station Inn in Nashville, TN. Admission is $15.00 per person. Please visit www.StationInn.com [1] for more information. Songs of the Grateful Dead: A Tribute to Jerry Garcia & Robert Hunter can be purchased via www.WoodstockRecords.com [2] or via Jesse's website at www.JimAndJesse.com [3].