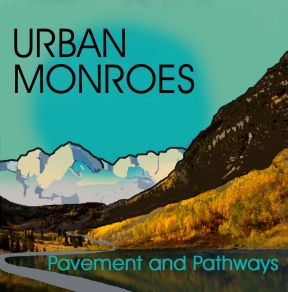 /MtnSkyMedia/ It's been a while since there has been a general Urban Monroes update, so this 73 degree, sunny, Pacific Northwest summer afternoon seems like the perfect time to replenish that dearth of information. In late May the band's new CD, Pavement and Pathways, was released on Mountain Sky Media. The CD had been preceded by three single releases on Kentucky's Poetman Records' radio samplers, so the project had already been making plenty of radio traction starting last October, long before the official release. Thanks to many DJ's adding us to their playlists with some playing every cut on consecutive weeks and others having it in high rotation, the Urban Monroes appeared on numerous radio charts with several #1 positions.
Things are still buzzing from all this activity. As of today, the band continues to be on the APD Top 50 Global Bluegrass Albums Chart and the band's heads and hearts are spinning with joy right along with the songs. Links to those charts and specific pieces of news can be found in the News Blog at www.myspace.com/UrbanMonroes [1] or www.UrbanMonroes.com [2]
Here are a few reviews that came in during the last couple of days:
"Pavement and Pathways, the band's second full length CD travels across 38 minutes of high flying, energetically infused bluegrass that spans the gamut from powerful original vocal beauties like "Hole in My Heart" to the adventurous instrumental arrangement of "Old Joe Clark" and the picturesque "When the Aspens Turn". None of this would be possible without the band's combination of vocal talents, instrumental skill and fearless execution of un-explored country as in their grassed version of "Secret Agent Man". This four piece band has all three in their guidance system expertly mapping a musical highway that is fast, furious and fun. From start to finish Pavement and Pathways traverses a road of original and traditional material that takes you to places you've never been before." - Blue Jam Magazine
"I received the new CD today and all I can say is WOW!! Every song is great!" - Jim Chatfield World Wide Bluegrass
The Urban Monroes have had a wonderful festival season which continues as August approaches. Here's an article about an upcoming festival on Cybergrass [3].
Hope everyone is enjoying this beautiful season!