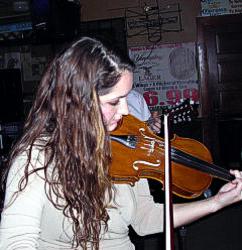 As most of you know, on May 1, 2011 Heather Twigg past fiddler with the bluegrass band Ed Schaeffer & Rattlesnake Hill and her boyfriend Cory Wharton were struck by a car in Johnson City, TN when they were crossing the street to pass out fliers for DelFest. They are both home and healing up from severe injuries, but are now facing substantial amounts of medical bills. Heather does not have health insurance since she is unemployed and was cut off from her unemployment benefits due to separation from being hospitalized. Cory was unable to start his summer job that he got hired for while studying at ETSU and they cannot play gigs just yet until the doctor gives them permission. They would both like to thank everyone for the cards, gifts, prayers, visitors and phone calls. It means a lot to them.
Many people have been asking how they can help and here is how. Click Here [1] and it will take you to a secure donation page with PayPal. You can enter any donation amount you wish and it will be sent directly to Heather's bank account. Even if you can only pitch in $1, every penny helps!
Here are a few things that other musicians have said about them:
"Cory takes you on a journey with his well crafted songs which are delivered perfectly by his soulful singing that will put you in the mind of a young Larry Sparks. He sings what he feels and that is evident, as with all great singers!!" -Tony Mowell, Blue Moon Rising
"Heather is a seriously talented vocalist and fiddler, having held her own on stage with Valerie Smith and other fine bands. Heather has a classic bluegrass/country voice, as well as perfect intonation, a great work ethic, and a memory for melody that's astounding." - Kip Martin, former Sunny Mountain Boy
"Cory is not only an exceptional singer and instrumentalist, but also a writer of intelligent, original, and memorable songs. In an era that is ever-saturated with up and comers, Cory's music stands out as a force that is sure to be reckoned within the years to come." -Noah Wall, The Barefoot Movement
"Heather is a true crowd-pleaser as both a bluegrass fiddler and a vocalist. A recent Maryland State Fiddle Champion, she plays fine renditions of classic fiddle favorites as well as soulful backup licks. And Heather has a true bluegrass voice, taking leads or singing high harmony with impressive ease." -Joe Zauner, Appalchian Flyer
Also, check out the article on The Bluegrass Blog: http://www.thebluegrassblog.com/4th-annual-delfest-bluegrass-band-compet... [2] Thank you all so very much for your love and support!